Is your Search ready for Black Friday?
Is your Search ready for Black Friday?
Prep your engineering & merchandising for the holiday season
November 5 2021
During special shopping events like Black Friday, shoppers significantly increase their purchase and findability needs, having a clear idea of what they want and the urgency to buy it before it's too late. Year after year, Commerce Search has been at the centre of this discovery event.
Larger retailers prepare themselves for the long-distance race that is the holiday season, knowing that they must deliver the most efficient, frictionless and functional Search & Discovery experience possible, adding more typeless and conversational features to make their shops stand out from the competition. Black Friday, in particular, pushes retailers to be technically prepared for extremely high peaks in traffic to avoid any downtime. If something goes wrong on the day, it will have a huge impact on global revenue and your customers' perception of your brand.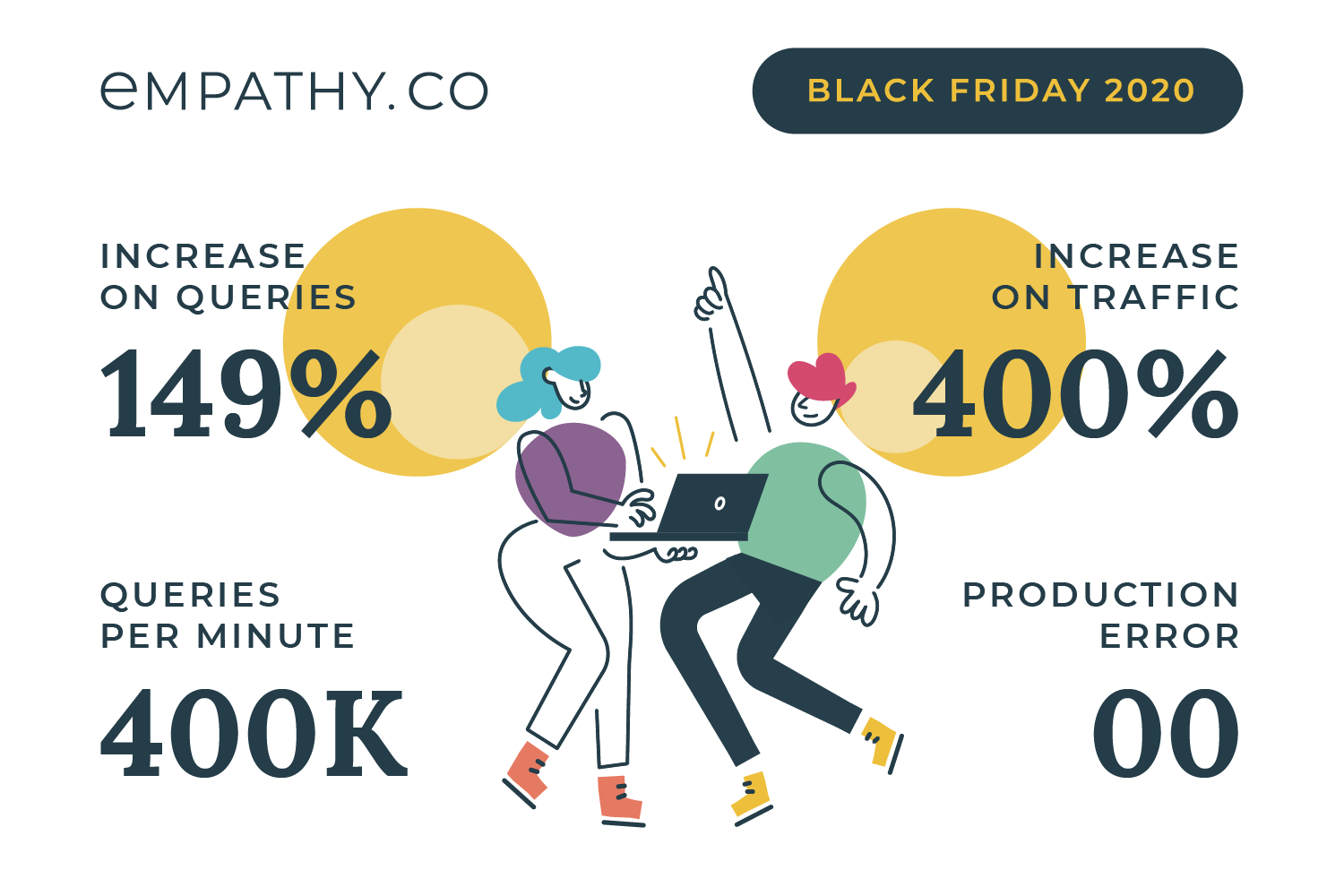 During Black Friday last year (27th Nov 2020), many Empathy.co customers, advanced retailers from industries like groceries and fashion, experienced an increase from 112K to 400K in Search queries per minute. To make sure your shop is Black Friday ready, here are our key recommended Search & Discovery actions.
BUILD TECH THAT'S READY FOR IMPACT
A commerce site should be supported by a scalable, portable, reliable and agnostic solution.
Unlike monolithic or all-in-one platform architectures, Empathy Platform uses a headless architecture allowing scalability and flexibility. Headless architectures separate backend infrastructures from the frontend so UI components can be instantly and independently updated with no effect on the backend. 
The API-first approach makes customised tech stacks possible, leaving teams to choose the best microservices for their unique needs without dependencies or complexity.
To ensure there's no interruption in service, we strongly recommend that teams follow these actions when considering their Search architecture:
Analyse. Check the amount of traffic in the weeks running up to Black Friday and last year's performance figures. Use this information to estimate the load you will have to support.
Stress test. Test your staging and production environments 4 weeks before the big event, to ensure the existing code can withstand these traffic peaks. It's also important to review scripts and data for load tests.
Scale services. In order to avoid major service delays, scale services, cluster and increase instances well above your expected levels of traffic for Black Friday.
Code Freeze. A few days before and during the event, a code freeze should be applied to reduce the possibility of introducing bugs and overloading the code.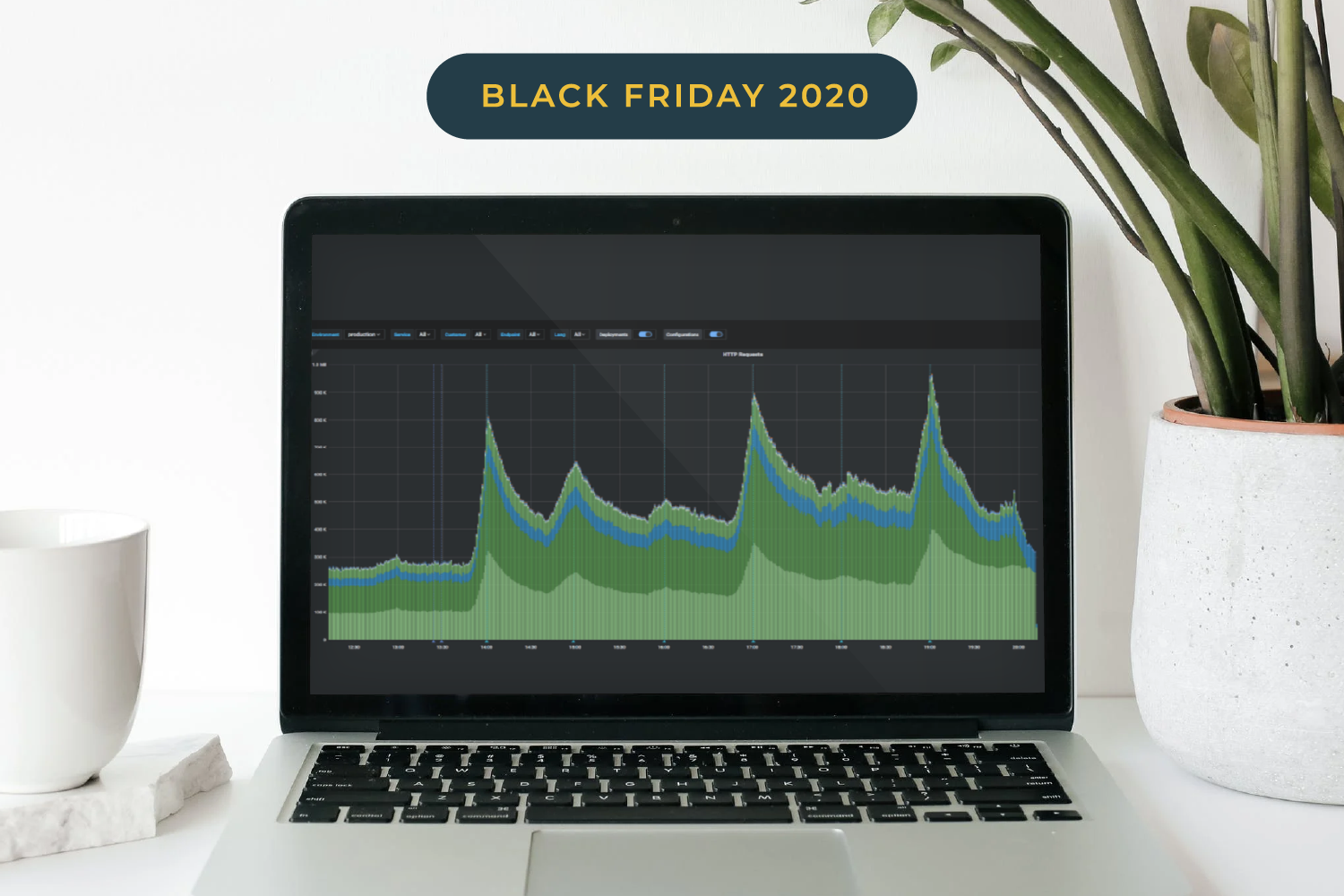 MERCHANDISE & PERSONALISE
It's critical to align Search behaviour with merchandising needs. When configuring your Search, consider merchandising criteria such as special promos, stock levels or product attributes. The whole Search experience should be ready to respond to your customers, understanding what they need and inspiring them. To achieve this, you should analyse and observe your Search experience and its performance. 
To provide a successful Search experience adapted for these high volume special shopping events, try making the following preparations:
Explore your Search analytics. Gain insights into what your shoppers are searching for ahead of the event, and what products they're searching for but finding no results. Empathy Playboard brings together all the essential tools to manage your Search, presented in a way that is quick and easy to use and a joy to see.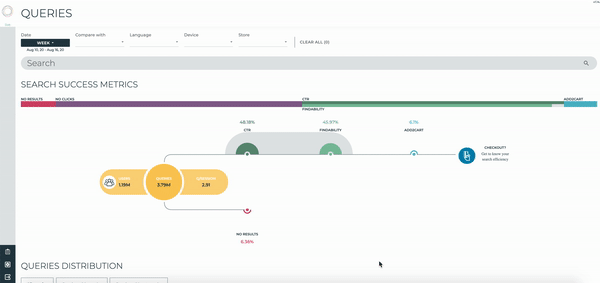 Promote discovery. Your shoppers are getting prepared for the big day too, checking out your catalogue and making wishlists. By offering key features towards a typeless Search experience, you speed up discoverability and help shoppers accomplish their purchase goals. With a suggestions layer that includes previous searches or trends, you can inspire them with products they may not have thought of yet. 
Adapt your Search and catalogue. By detecting trends and market opportunities with Search visualisations like Trends Datavis, merchandisers can compare keywords and see all queries related to them.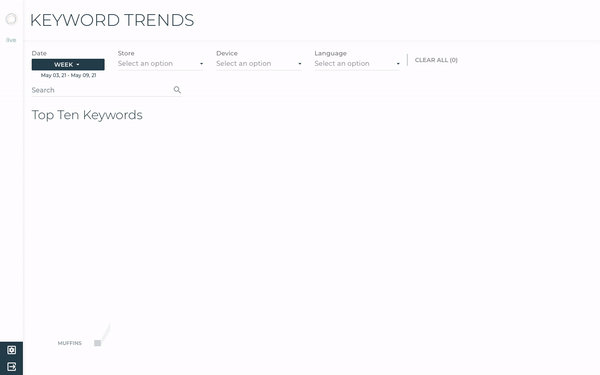 Build the perfect results page: Search configuration tools help you optimise the Search results page based on your business and shopper needs. Putting AI at your service with tools like the Related Tags Management Tool, you can adjust the relevancy of results and alter the way tag recommendations show on the results page. What's most exciting is that you can make these changes in real time and without a single line of code. On the run-up to Black Friday, you could even try previewing price discounts on the results page before the promo arrives to create a buzz with shoppers.
TAKEAWAYS
Like never before, a trustworthy, understanding and enjoyable Search & Discovery is key to beating all Black Friday business goals, and robust and agile technology is essential to its success. 
Through a composable technology based on extensible microservices, Empathy Platform provides a flexible architecture that's easily adaptable to new services and ready to endure any major peak in traffic. 
For the Search experience and results to be deemed effective and successful, a human connection is required — a dialogue of trust based on the transparent fulfillment of people's needs and aspirations. By adjusting to changes in these needs in real time, and through a no-code experience, Empathy Platform empowers the merchandisers to give shoppers what they are looking for and more.
Working on your big shopping event preparations? Let us know how you prepared and if we are missing anything from our guide. 
Stay tuned for our next post on recommendations and good luck with Black Friday events wherever you are.