Welcome to the New Empathy Playboard
Welcome to the New Empathy Playboard
January 11 2021
Since its origin, Empathy Playboard has been driving search strategy through intelligent analysis and accurate adaptation to business needs and objectives. Its play tools boost products to the top, increase campaign visibility, help manage promotions, and organize reports.
With this revamp on aesthetics and some functionalities, the New Empathy Playboard brings together all the essential tools to manage your search as well as the needed visualisations to make the most of your search data.
NEW FUNNEL
On the analytics tab, you can find a complete overview of your search performance through a new funnel that hosts your Search Success Metrics. You'll feel at home with the usual search KPIs such as Queries, Findability, CTR and Add to Cart, to which we have included new KPIs and variable to play with:
New user-related KPIs such as Queries per Session and total Users of search.
New transaction-related KPIs: Checkout ratio and Revenue.
No Results ratio has been added to this view to understand the evolution of this KPI and if there is any product that could be a candidate to add to the catalogue.
Now you can compare those KPIs between different periods of time.
The already existing filters are now multi selectable which makes it easier to understand the added value of devices, store or language (for example checking just apps or selecting Spain with or without the Canary Islands).
MORE RELATIONSHIPS
The Queries Distribution now offers a complete understanding of search performance by language, device or store. View relationships among different search variables and quickly learn the right insights about where, when and how your search is acting well or needing some enhancements.
For a deeper analysis on specific search terms, under the Queries section, you may choose any term to check its performance through all the KPIs. See the related terms associated with each keyword. You may either select a query from the list or just type the specific query you wish to check.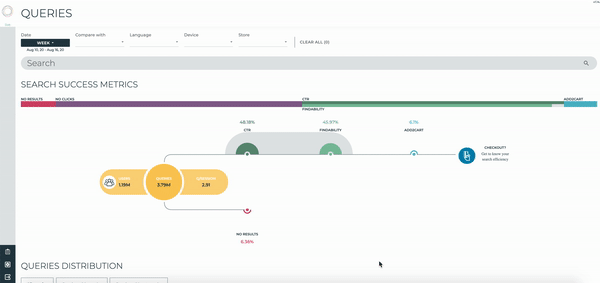 You can also check the step-by-step guide to understand search KPIs and query relationships.
MORE HUMAN
Empathy Playboard has always been one of the most important tools for Empathy customers when managing search, and this revamp was built listening deeply to them, its daily users. That's why the new Playboard will be regularly updated in order to introduce new concepts or clarify the existing ones. You won't miss anything; release notes will be added whenever a new version or change has been made so you may check, play and feel.
The New Playboard is a decisive step towards aesthetics and beauty in Search & Discovery data, a step which gathers together all the Empathy experience in search configuration and analytics through the years and follows the Empathy principle of making data expressive and sensitive. A new face for tooling and insights, that makes it capable of telling stories. Bringing life to data and making it more human.