Improving the Explainability of Personalisation
Improving the Explainability of Personalisation
The art of curating your own preference controls
March 6 2023
Online retail is a thriving industry with no signs of slowing down. With its evolution, shoppers now look for a fully personalised experience to meet their preferences and needs in the best possible way.
But when it comes to a personalised experience, online shopping can be frustrating for customers. With a lack of Explainability, shoppers often see personalised products without understanding where they are coming from, making personalisation fail. 
Shoppers deserve better than this.
They should know which products they see are personalised and which are not, not to mention knowing what is under their control and what isn't.
Let's explore five use cases to inspire greater Explainability in Customer Affinities Search. 
It's time to design a personalised experience that elevates Explainability, improves understanding and empowers shoppers by giving them control.
1. HIGHLIGHTING PREFERENCES USING FLAGS & BADGES
Picture a grocery ecommerce. Now imagine a regular shopper - let's name them Jesse.
Jesse can personalise their shopping experience by selecting nutritional preferences, diet interests, food tastes, allergies, and more when creating a Food Profile within his shopping preferences. 
We refer to these preferences as Affinities. 
Once Affinities are selected, they influence the product results that Jesse sees when searching and navigating the grocery shop.
Personalised results from Affinities are easy to identify and understand thanks to an icon badge that flags the relevant items. 
For example, if Jesse selects "Gluten-Free" in their Affinities panel. When searching for "Bread", every item meeting the criteria is labelled with a "Gluten Free" icon.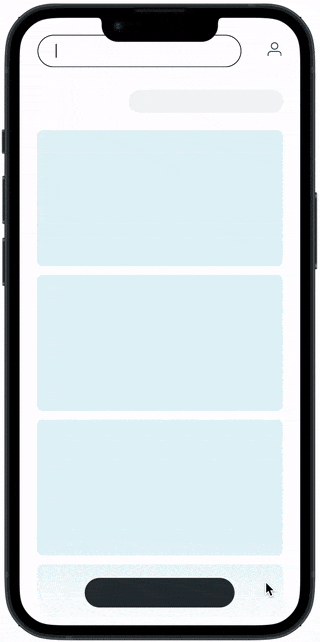 2. BOOSTING & ELEVATING PREFERENCES
Affinities also boost products matching the shoppers' selection, playing a role in the store experience. Relevant products appear at the top of the search results page, giving shoppers greater visibility on personalised items.
Following the previous example, "Gluten Free" products are boosted and gain relevance among all other results. 
3. DISPLAYING RECOMMENDATIONS THROUGH CAROUSELS
Another way to show products directly related to Customer Affinities is through carousels. Recommended items can be grouped and displayed as a content slider.
This featured element allows the shopper to establish visual relationships between their Affinities and the personalised search results obtained. Throughout the search, customers are shown a carousel with recommendations and can understand what is behind the personalisation.
Since Jesse has selected the "Gluten Free" Affinity, they see a carousel selection of new and relevant trending products.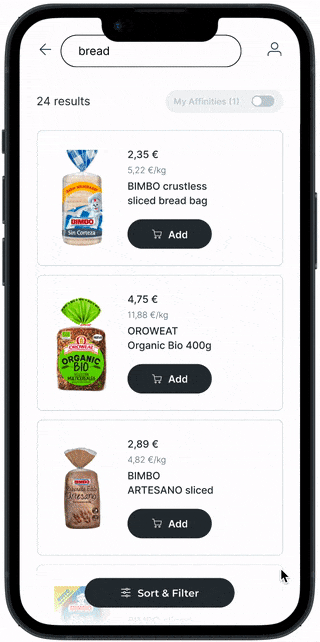 4. VISUAL FILTERS FOR IMPROVED VISIBILITY
Visual filters translate customer preferences by displaying relevant products one after the other at the top of the results page. Each time a customer searches for a product, a list of automatically selected filters appears based on the previously set Affinities.
Visual filters make a clear product listing page, showing shopping the exact Attribute related to the personalised items listed on the results page. By applying Favourite Filters within their preferences, the shopper can use them to select the types of products you want to see or hide while shopping (e.g. Gluten Free, Dairy Free, Organic).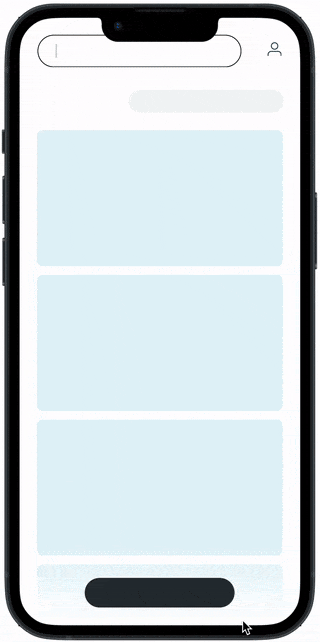 5. EMPOWERING CUSTOMERS AND GIVING THEM CONTROL
Giving customers control of their shopping experience is a great functionality that ensures good personalisation.
Affinity Controls allow shoppers to choose how to apply their preferences within their experience, enabling a two-level selection that combines boosting and filtering:
Taping once on a specific preference saves it as a Boost Up. This applies to food tastes, types, origins, processes, and packaging materials.
Tapping twice saves it as a Filter. This setting is ideal for health conditions, allergies and intolerances, or specific diets. 
Boost Up Affinities elevate items that meet the requirements but also show those that don't (e.g. Organic). On the other hand, Filters narrow down the product results to show only the ones that match (e.g. Gluten Free, Dairy Free).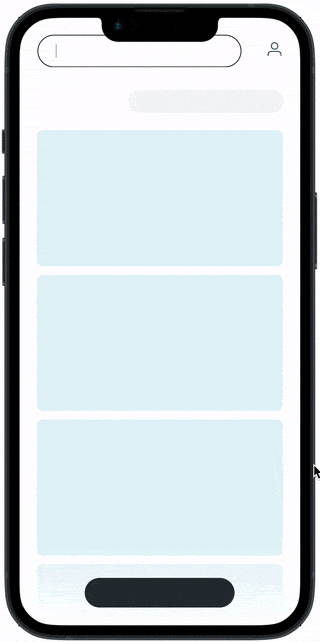 MAKING AN IMPACT ON THE WAY PEOPLE SHOP ONLINE
Empathy.co is always working on new solutions to take online shopping experiences to a new level with a customer-centric approach. The main goal of these Affinity use cases is to deliver explainable ideas for developing a privacy-first and ethical search experience.
Customers deserve to understand, curate and control how personalised products come across in their shopping experience.
Great Explainability in Customer Affinities will empower them in a personalised and joyful way, bringing trust into the relationship as they know where each result and recommendation is coming from.