Empathy Solid Challenge
Empathy Solid Challenge
Promoting innovation for a more human future
June 23 2022
What is Solid?
I first learned about solid technology when I joined Empathy.co. This technology establishes a protocol for users to store their personal data in a decentralised and safe way. However, while Blockchain has been gaining considerable popularity over the last few years, the potential of Solid technology is yet to be discovered by the public.
Every type of technology has its specific usefulness. Blockchain offers an alternative which allows us to store and share financial information. On the other hand, solid technology uses the standard Linked Data to keep the user's data in PODs. These PODs can be stored directly on the user's server (like a raspberry or the user's own mobile device) or on a more centralised provider, such as the Solid community.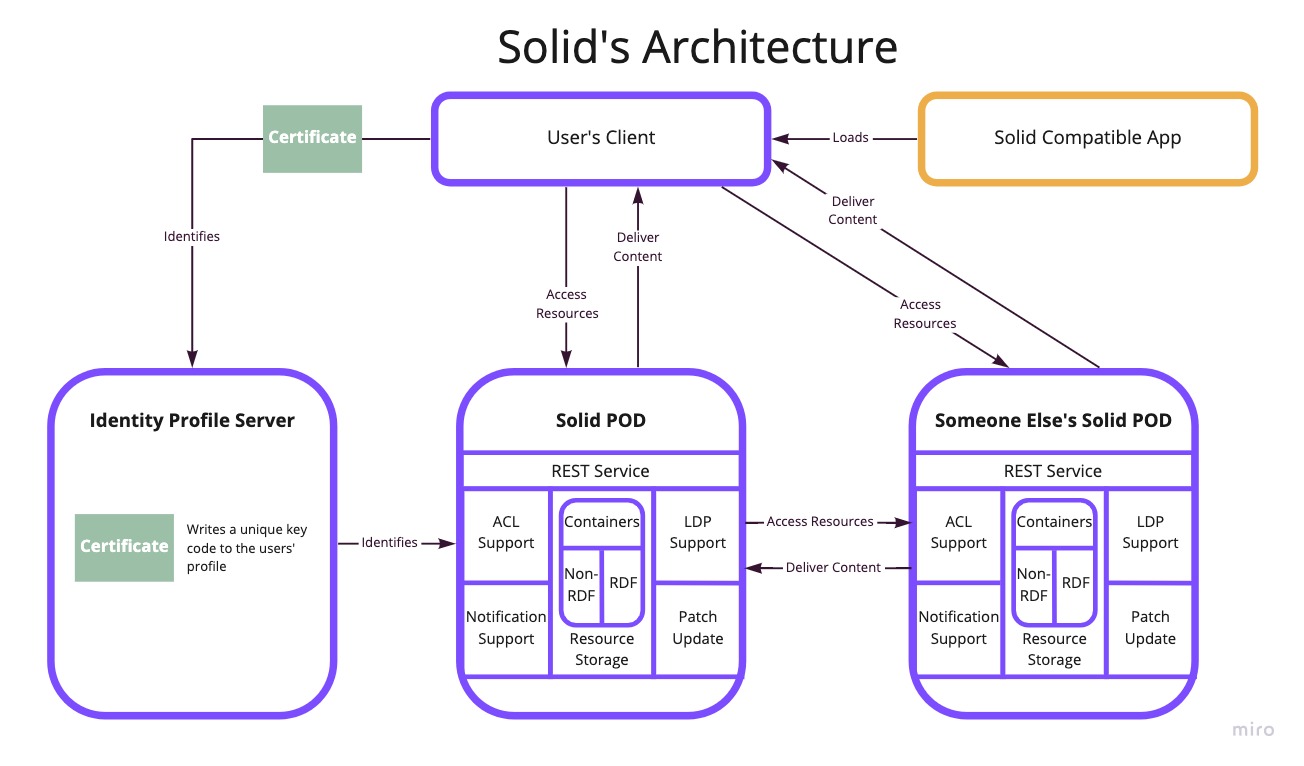 The POD has two 'compartments', one public that anyone can consult, and another private 'compartment' containing the user's private data. The advantage of this system is that the user can decide who they share their private data with. They can also determine who has permission to use their data, giving and removing access as they please from one single space.
Empathy.co and Solid
Privacy matters. Today, many services take advantage of modern life's frenetic rhythm. They deliberately confuse users with cookie policies that are complicated to reject and challenging to understand. The need for immediacy leads us to consent to things we probably would disagree with if we understood the real implications.
At Empathy, we follow the 'private-by-design' principle, designing products created to be ethical from the beginning. This requires continuous innovation, and if we want the experience to be joyful for the user, we need input from young people. After all, they are the product of our society's changes.
'Empathy's recommendation is to approach privacy as a human right, therefore designing your products in ways that respect a customer's online privacy with offline standards. Taking a clear standpoint that sees privacy as a priority.' - Privacy Violations in Retail
Although Empathy.co doesn't yet use Solid technology, it's undeniably a future interest. With this technology, we can combine our commitment to privacy with the ability to offer businesses an experience guaranteeing users' rights; (access, rectification, cancellation, and opposition).

Solid Challenge
For this reason, in 2020, Empathy.co created Empathy Academy. The idea was to establish a dialogue with students and universities in search of a more human future. At the same time, Empathy.co also collaborated with the professor José E. Labra so students from the University of Oviedo could investigate Solid technology. Since then, students have focused on discovering all areas of Solid technology, including its evolution, possible uses, problems, and solutions. The Empathy Solid Challenge rewards these students with a cash prize and a paid internship for their efforts.
During the 2022 edition, eleven students presented their developments to Angel Maldonado, CEO of Empathy.co, and Pieter Verg, the Product Owner at Empathy. They were able to take part with Angel and Peter in an in-depth discussion regarding ethics, technology and humanity and the challenges within data protection.
With the help and guidance of the university professors teaching Software Architecture, the students developed two commerce applications. They combined centralisation, offering users an agile and dynamic experience on their webs with privacy, so users' data would be dealt with in a decentralised way, for example, by reading the delivery addresses without storing any user data afterwards.
The jury was formed by Empathy, the University of Oviedo and Inrupt (the company behind Solid). While I honestly believe that both repositories are incredibly worthwhile, there can only be one winner. And so, the jury named the winning team as that formed by the following students:
Álvaro Rodríguez González
Pablo Lopez Amado
Andrés Martínez Rodríguez
Ángel Iglesias Préstamo 
Noelia Iglesias Cuesta
Conclusions 
Solid is just one more example of multiple technologies that could potentially improve our digital experience while respecting our privacy. By maintaining a dialogue with the next generation of web developers about how to use these technologies, Empathy.co demonstrates its commitment to making the internet a more ethical space.
It's fascinating to see how the students approach new technologies to change the future. They show not only talent but also a desire to change the world.
Now it's time for more teachers and professors to get involved with Empathy Academy. Please, get your students involved and help form part of our mission! Make it happen, don't hesitate to get in touch with us!