Why Major Grocers turn to Related Tags
Why Major Grocers turn to Related Tags
January 10 2022
What if repetitive, tedious tasks like grocery shopping could be effortless, and even fun?
More and more retailers are adopting Related Tags to help people find what they are looking for faster and offer inspiration to discover something new. Think of tags as combining wisdom of the crowd, AI and retailer guidance so you can shop smarter. 
Giants in ecommerce, such as Kroger, Carrefour, Ocado and now Walmart, use Related Tags to reduce the noise in search, creating a better customer experience and boosting discoverability.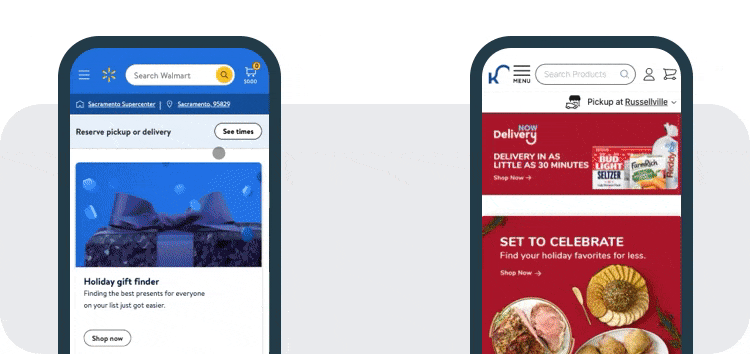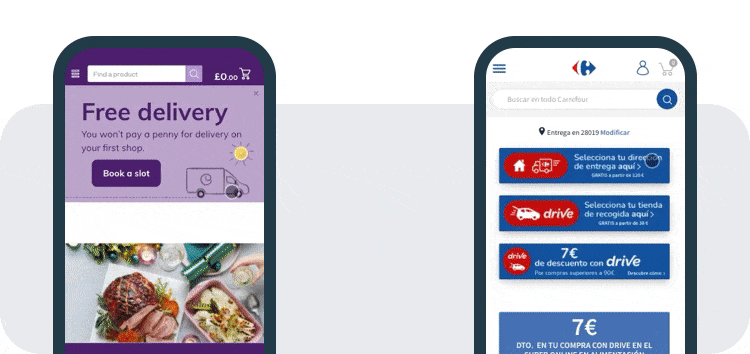 Why is this strategy working and what's next? Let's dive in…
Small but mighty helpers
Empathy.co customer data shows seven out of ten shoppers find what they are looking for on the first page of results, mostly due to personalisation inferred from purchase history. Then one out of three shoppers who don't find what they're looking for at first glimpse choose Related Tags to reduce noise and the total number of results. Overall, shoppers turn to tags twice as often as filters to refine their search.
The biggest difference between Related Tags and filters is that tags better reflect the customer's voice. Filters connect to the catalogue's language, which may differ from how people speak. A product filter for almond milk may have been defined as unsweetened, yet people will search for no sugar or sugar free.
In contrast, Related Tags build upon the dialogue with shoppers started in the search box. A shopper types a query in their own natural language and tags jump in to narrow search results and find products quickly as part of a human conversation. Tags can be customised by merchandisers as well as generated from search trends and popular products. In this way, they're like digital shop assistants evolving from AI and the wisdom of the crowd.
Why is this so effective? Because tags get to the heart of Search, showing the most probable pathways you may want to take as a shopper. Facilitating your journey, refining and going beyond your initial search. With advanced tags, the same query for a retailer may offer different tags depending on a shopper's location should they choose to share it — speaking the shopper's local language with products popular in their community.
Reducing noise within a huge catalogue
Online grocery shopping has become ubiquitous since the pandemic. People have turned to their supermarkets' websites at unprecedented levels, some for the very first time. Tools to efficiently and effectively guide customers are key, connecting them to what they need and introducing them to new products in a seamless experience.
Related Tags represent common journeys customers take after very generic queries. Supermarkets in particular manage a wide catalogue and a vast array of product categories: food, health and beauty, home goods, electronics, etc. Certain types of queries will populate results pages with thousands of results. Searching milk or cheese could become a nightmare for the shopper if the experience does not include the right mechanisms for narrowing down aspects like product type, category and brand.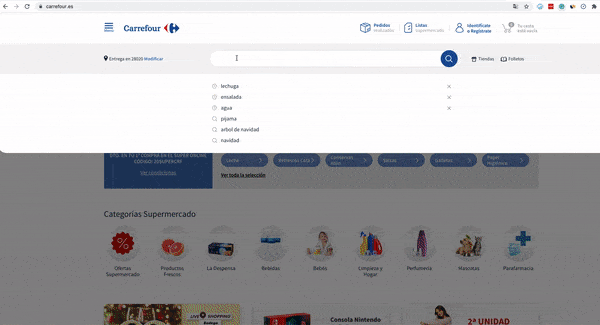 Towards typeless search experiences
All in all, Related Tags resonate with people. Whether through text or images, tags are rapidly becoming an industry standard. 
It's no longer about facing the tedious work of shopping online, with the limitations and frustrations that come with not finding what you need. Shopping with advanced Search & Discovery platforms means an experience with less typing, more clicking and more fun. One that's supported and guided by AI and can be customised and enriched in real time with innovative tools.
Thanks to the Krogers, Carrefours, Ocados and Walmarts of the world for pushing the boundaries and creating memorable experiences with features like Related Tags. What's next?