This Black Friday... Donate Your Console!
This Black Friday... Donate Your Console!
November 17 2020
Black Friday is a great opportunity to renew your tech gadgetry at home. Empathy, in favor of Juegaterapia.org, offers you the chance to donate tablets and consoles to children's hospitals and healthcare settings across Spain. The kids will enjoy your devices and the good cheer will speed kids' recovery!
Empathy is matching any donation with 100€. The final amount will be donated to Jugarterapia for any of their projects in hospitals.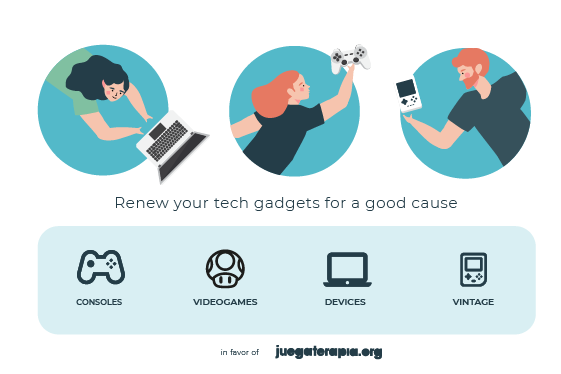 WHAT TO DONATE:  Consoles (PS4 and Nintendo Switch are what the kids ask for the most), video games, tablets and laptops in good condition. Juegaterapia also uses vintage consoles for the retro markets they organize.
Make sure consoles, accessories or games you are donating are in working order (including cables or any other accessories) and cleaned.
WHEN TO DONATE: 13th to 30th November 2020
HOW TO DONATE:
Boxing up – Pop your donation in a suitable box and print the label at Juegaterapia.com; the message must include: Empathy Black Friday Campaign.
Sending it off  - Drop the package with the label already attached at any Envialia point.
Give us a shout – Send a receipt for the shipment to amplify@empathy.co, and we will count your donation so that Empathy matches it with 100 €.
If you are based out of Spain and you want to donate any device, please contact us.
Thanks for your collaboration!