The Summer's Most Sought After Supermaket's Products
The Summer's Most Sought After Supermaket's Products
July 22 2019
This summer got off to a scorching start with a European heatwave and temperatures in Spain reaching a sweltering peak of 45º, so we decided to take a look at the effect of the heat on consumer's every day shopping habits.
Looking at data from one of the world's largest supermarkets within Spain, online searches for fans, swimming pools, sun loungers and BBQs soared with increases during the month of June of 249%, 126%, 26% and 7%, respectively.
On the food side, it was the fresher products that were the most popular with bio products coming out on top, followed by beer and ice cream. Bio products in general appeared in third position overall with tomatoes in fourth. While searches for ice cream and beer increased in June by 66% and 18% as people tried to cool off from the intense heat.
The below Summer Product Ranking table displays the most popular products in Spain and shows how their popularity increased over the summer months. As you can see, swimming pools top the table, followed by fans, with an incredible 249% increase in searches and more than a 20% click-through rate.
Also appearing within the top ten were fridges, washing machines, mattresses and bicycles as people looked to different ways to survive the summer months of sweat and sleepless nights!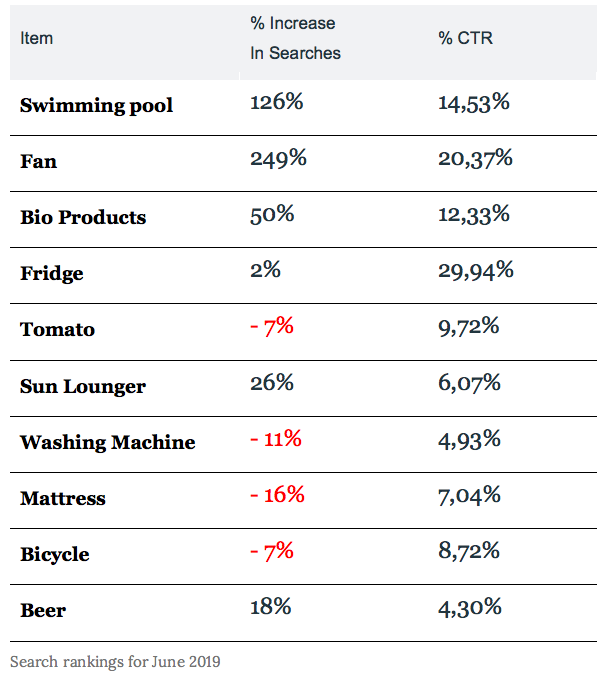 For this month of July, the data for the first fortnight showed very similar product trends to that of the previous month. Cooling products such as fans and air conditioner units continued to be on top. Likewise, beach and garden items such as sun loungers, deck chairs, BBQs and sun umbrellas all maintained significant increases in searches.
Analysing and understanding search data and seasonal product trends is essential so that retailers can not only monitor stock levels but can create a more tailored, intuitive and enjoyable online experience. That's why we've created a Seasonal Keywords visualisation to easily and quickly identify new tendencies and react to seasonal variety.
It enables retailers to really understand their users to be able to create boosts for the most popular products so consumers can easily find what they're looking for while also offering alternatives for popular items that go out of stock.
If you'd like to know more about preparing for special dates and seasonal trends, download our Special Dates guide.