The Future of Retail will be Textless
The Future of Retail will be Textless
July 3 2019
Over the past few years, the way we communicate and the channels we use have changed and evolved dramatically. We've seen a move away from text and a significant rise in image, visual as well as voice content alongside the technology that propels it.
These "textless" experiences now increasingly drive and influence the way we interact with each other, the digital world and our favourite brands. Not just in retail, but through the rise of Instagram and even Amazon's Echo device, as we see a bigger focus on communication that requires little to no text.
Our own consumer research revealed that 52% of shoppers say product images are the most important aspect of an online experience. However, a focus on creating the richest sensory experience whether that be through visual, voice or, who knows, even smell, is not enough – customers will only invest in a brand that uses technology in an innovative way to generate emotion, engagement and delight.
In this article, I'll pick out a few companies that are investing in textless commerce, look at the impact of social media and the future of eCommerce in an increasingly more visual world.
Made for you
The impact that eCommerce and mobile commerce has had in retail is undeniable. The younger generation is driving the shift to online; 25-34 year olds are the most active, on average shopping on a retailer's website eight times a month. Is there any surprise then that eCommerce is now the preferred platform for UK consumers to shop on?
What's more, images are an incredibly important element of eCommerce and we're seeing them take more and more prominence. Brands are increasingly using images to replace text such as the use of image icons as filters for different types of items, colours and so forth.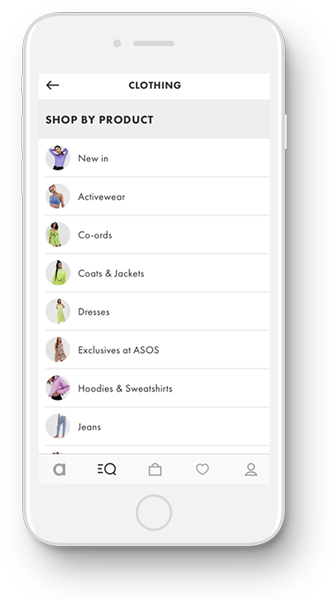 However, some brands are now taking this a step further. Take Made.com, a furniture company that sells affordable, designer items. The company is always going to have a bias towards visuals because of the products they sell. Most impressive is the company's 'Sofasizer', which allows customers to find their ideal item by playing around with the size, colour and price.
It's a simple yet effective way to give customers a visual representation of a product and the different options available in a way that's more fun and without the need for a traditional text-heavy search.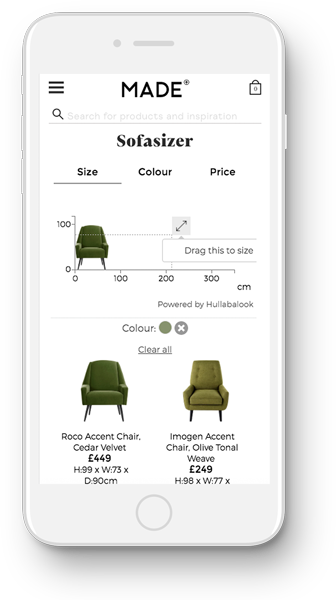 Ikea is another leading example of a brand that is using image to its advantage. The Swedish company is taking it one-step further with augmented reality (AR). The homeware brand is using AR to allow customers to shop remotely for products. They can visualise an item in the home, removing the need to visit in-store. It's the next phase in the textless experience that all retailers need to consider.
The irresistible rise of social media
Companies such as Made.Com and Ikea – and even Amazon to an extent – thrive online because they feed shoppers' desire for ease and convenience. Ecommerce led to the rise of next-day delivery, instantaneous access to products on mobile and laptop, and a shift away from the high-street. Equally so, the immediacy of social media has contributed to a lack of text, and the popularity in Instagram is driving this shift towards textless retail.
Introduced earlier this year, Instagram Checkout now allows users to buy products directly on the app. The idea is simple too – the fewer barriers there are to complete a purchase, the more likely people will be to buy a product. It's a shift in strategy but a smart one that Instagram itself is owning up to. The company wants to tap into the opportunity of online "window shopping."
Moreover, using imagery and image recognition technology to help customers find products independent of the source of inspiration in which the item was discovered cuts waiting time. It means that shoppers can upload an image rather than being forced to describe in words what they've seen, and either the exact product, or a very similar one, will be returned.
It can also be a great omnichannel approach; if a customer's size or the colour they prefer is unavailable in store then they can simply snap a photo and see what the online shop has to offer. What's more, image recognition is also a faithful ally for retailers to automatically identify, categorise, classify and tag products in the backend to save time, labour and costs.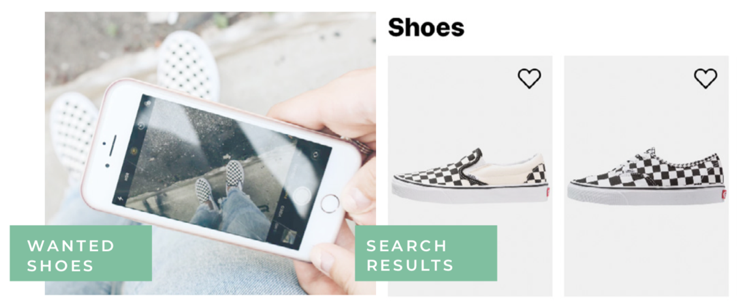 An image-first world
Incorporating visual prompts into online search and shopping not only creates a direct connection between the customer's need and the product, it's more engaging and an extremely effective, straightforward and accurate way to drive sales.
Customers are constantly being bombarded with ideas, advertising, new products and deals. But through image, and more innovative platforms including AR and voice, brands can stand out and captivate customers in a way that's more memorable, meaningful and entertaining, like never before.
This is just the start. Technical fine-tuning on image recognition capabilities and functionality is swiftly progressing so it's only a matter of time for visual search to be widely embraced. And with it, a new world of eCommerce possibilities that's more human and more relatable, with a closer resemblance to the real world around us and how we connect and interact with it.