The Search as a Guide to Fulfil Dreams
The Search as a Guide to Fulfil Dreams
November 5 2019
With brand-new Empathy Search and Discovery features to share, Empathy.co was at Meet Magento Spain on 28th October in Madrid to connect with the global Magento community.
At Empathy.co we believe that there is no better proof of a user experience than a real case. Therefore, on this occasion, it was our own client Pronovias.com who presented their recently revamped search experience.
Francesca Ceron, Digital Project and UX Manager at Pronovias, led a presentation titled 'Empathy as a driver of the user experience'. The presentation explored key points to master a great challenge: accompanying brides' journey to find their dream bridal dress. The centrepiece of this challenge: A unique and distinct Search and Discovery experience, in which different tastes and styles are involved, while exploring the Pronovias site, to find the perfect dress for one of the most important days of our lives.
From the moment this project between Empathy.co and Pronovias began, it was clear that the main objective was to create a more personalized and relevant experience to guide the brides to fulfil their dreams on such an important day. Key Search and Discovery features, which are already working at Pronovias.com, have been specially designed for such a particular business and user intent. You can see below the full presentation driven by Francesca Ceron at Meet Magento Spain 2019.
As mentioned in the presentation, we are working at this moment on Visual Facets that will further transform the way users find the right dress and easily discover all the possibilities of the Pronovias catalogue and collections. The desired silhouette, the neck type and the event celebration location can be selected on a facets menu to find the dream bridal dress. Less typing, more clicking, more fun.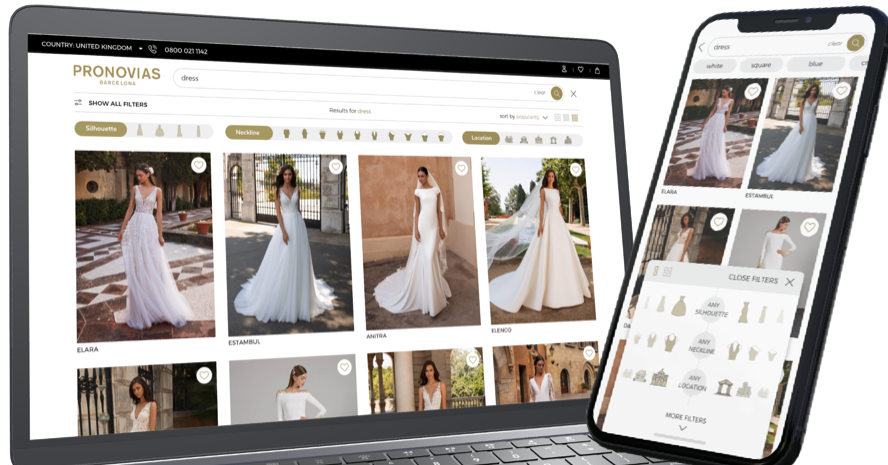 It is fascinating when visual facets translate catalogue categories and products specs in a way that is inspiring and evocative. That's how Search gives shape and form in response to sensed actions. Thanks to Pronovias for your trust and synchronised teamwork when building together such an empathetic and, more than ever, dream-evoking Search. Much more is yet to come!