Now Visualisation, access your search data in real-time
Now Visualisation, access your search data in real-time
May 22 2019
The Now visualisation is one of the most popularly used data visualisations. As you may well be aware, it shows trending search queries to quickly and easily identify performance in terms of the frequency of typed queries, clicks and, importantly, no results.
Due to its simplicity, its real-time nature and its query-centric idiosyncrasy, Now is one of the most used and most liked visualisations. In fact, we've seen many clients erect large plasma screens in their offices dedicated to showing these real-time queries.
What's more, over the years we've noticed how brands who display this visualisation are often able to react early to spot trends or issues and take immediate action. For example, identifying quickly queries producing No Results to re-stock or offer alternative products, or promoting a specific product based on query trends or top clicked queries.
This search visualisation pulls data from the Empathy Stats API to gather together all the required figures and queries which are then displayed as little bubbles, varying in size to align with the query volume. These bubbles are constantly moving in accordance with shoppers' behaviour and reactions during their search experience. All the queries, patterns and KPI's shown are extracted from just one essential report on the Stats API: Trending Report.
The Trending Report returns the most trending terms for each event type (number of queries, clicks and no results). The Now visualisation is the best way to observe these KPI's in real-time and to understand search performance based on these queries.
Filters on the visualisation offer three different time intervals: 15 minutes, 1 hour or 16 hours. It's also possible to use the report to check a particular pattern or query reaction in the past. This can be done through accessing it directly on the Empathy Stats API. Here you can see how to consult any of the available reports on the API.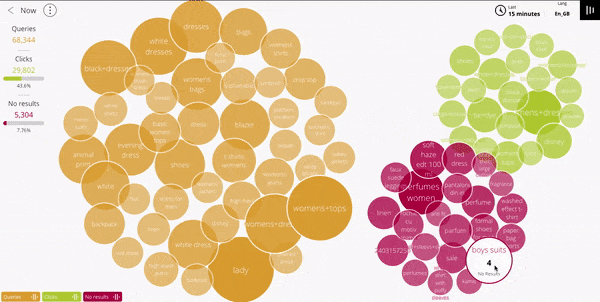 The Now visualisation enables retailers to react in real-time to customer demand, understanding and adapting intuitively to user expectations as well as trends. It offers a unique and powerful tool to engage and inspire online shoppers, improving the customer experience while maximising on sales opportunities. It's no surprise then that it's one of the most popular visualisations!
If you'd like to learn more about the Now visualisation, the actionable insights it offers and the way it provides instant interaction with customers, download the Now overview.