No Results: Go Beyond the Keywords and Find Out your Users' Intentions
No Results: Go Beyond the Keywords and Find Out your Users' Intentions
September 18 2019
The understanding of your site visitors' intent is one of the most delightful parts of search data analysis. Caring about the most wanted products in your e-commerce adds a great deal of value to your analysis but, what happens with those frustrated search intentions?
We have already covered the No Results topic from a catalogue perspective; on this post, we explained which are to react the main actions against your most common No results queries. Now we're making a big step forward, so I would like to show you how you can add value to your current No Results analysis by creating meaningful visualisations using data retrieved from Empathy Stats API.
A CORNERSTONE IN SEARCH DATA ANALYSIS
Let's take a step back. Why is this the first point you should focus on? No Results queries represent those products that are not included in your catalogue but are demanded by your customers. Consequently, they represent product purchases that could be, but were not.
WHAT SHOULD I KNOW ABOUT MY NO RESULTS QUERIES?
To achieve a deep understanding of what's going on with No Results in your site, the search analyst should pay attention to two main KPI's:
No Results % in your site: This KPI should be stable in each ecommerce, and by its monitoring the analyst will notice easily that, at the moment it raises up, something weird is going on. In that case, just have a look at your No Results table and figure out the reason why.
No Results queries trends: Which are the products driving No Results pages? Some No Results terms, appear and disappear, but others remain in continuous demand for a long time. Understanding the evolution of each term of your No Results terms is also valuable: Should they become candidates to be added to my catalogue?
HOW CAN I GET THIS DATA?
All Empathy Data is stored in the Stats API and can be easily retrieved to be processed and shaped into different reports in JSON or CSV format. You only have to log-in by using your Empathy credentials to get the token, and then only a few requests will allow you to easily get the set of data you need to a further analysis of your No Results. Find here a helpful post about How to Access to Empathy Stats API and extract your own data. For this specific purpose, the following reports are the keystones you need:
Daily Distribution: returns a set of the main Empathy KPIs among which you'll find the number of No Results and queries.
Term Success: returns the top terms with results or without them.
Term Success Distribution: returns the trend for a given period of the specific term passed in the request. With this set of data, you'll be able to create a chart to print the evolution of each No Results term.
DRAW AND CREATE YOUR OWN VISUALISATIONS
By processing the data retrieved from the Stats API, you'll be able to create meaningful visualisations. Just play with the set of data retrieved and integrate the results in your current search analysis. Below, we present an example of a chart that you'll be able to create by using data retrieved from the Stats API reports mentioned above: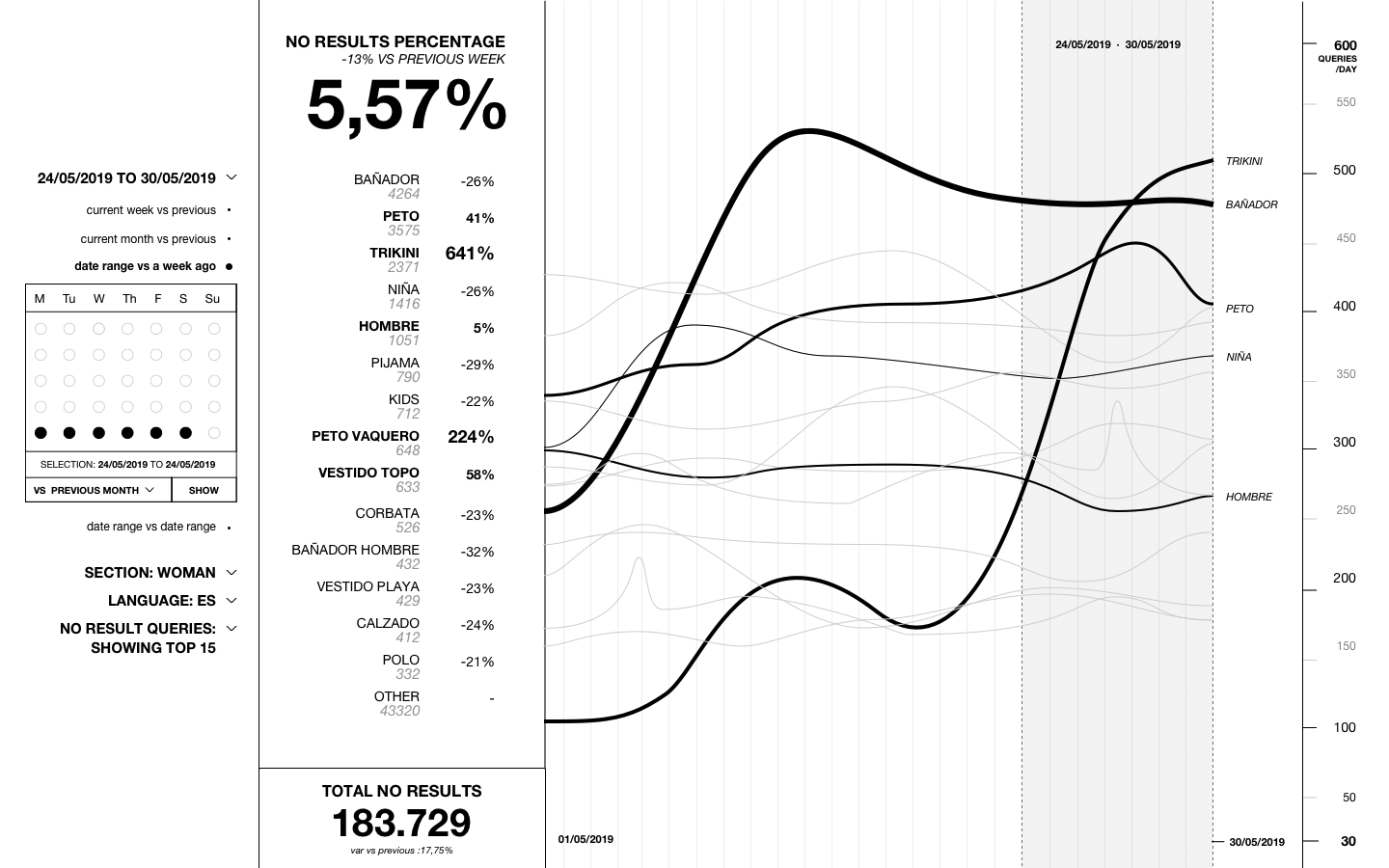 Paying attention to your No Results queries is critical if you want to identify customer trends and opportunities for growth or improvement. You can use Empathy Playboard to study your No Results queries or either review the top 20 culprits for each period with our Zero Results Visualisation. However, if you need a deeper analysis, you can always access the Empathy Stats API to extract your needed data. Of course, just keep in mind that we will be here always happy to help you.