Let's get connected: Empathy.co is now available in Google Data Studio
Let's get connected: Empathy.co is now available in Google Data Studio
October 22 2019
Over the last few months we've shared some hints about how Empathy's processed data may be integrated with Google Data Studio (DS). Now we're glad to announce that Empathy.co has officially taken advantage of the DS Community Connector under the Google Developers program to create its own Data Studio connector!
The big reason why Data Studio has been broadly adopted in recent years in the marketer and analyst communities is the integration of multiple data sources in a single, and interactive, dashboard. The pain point of this tool becomes apparent when data interactivity and actionability cannot be automatically executed due to the integration process, as sometimes you are constrained to use static Google Sheets for adding certain data sets.
That's why we have been heavily immersed in the creation of an Empathy data connector. As of now, it makes things easier for the Empathy customers using Data Studio as their reporting tool. With this new connector you may integrate all your search data simply and intuitively.
Adding the Empathy.co Stats API connector to your DS Workspace, you can have a complete Search Performance dashboard – unifying, for example, Empathy Search KPIs with your Site Search Google Analytics details. See here how to install the Empathy DS Connector and integrate our KPIs:
HOW TO USE EMPATHY.CO CONNECTOR
Add Empathy data source to your workspace. Follow this link and then include your instanceID (your company name) and your Empathy Dashboard credentials.
In the configuration page, switch the Data credentials to viewer instead of the default option owner.
Click "Create Report" and then start using the connector in any of your current reports!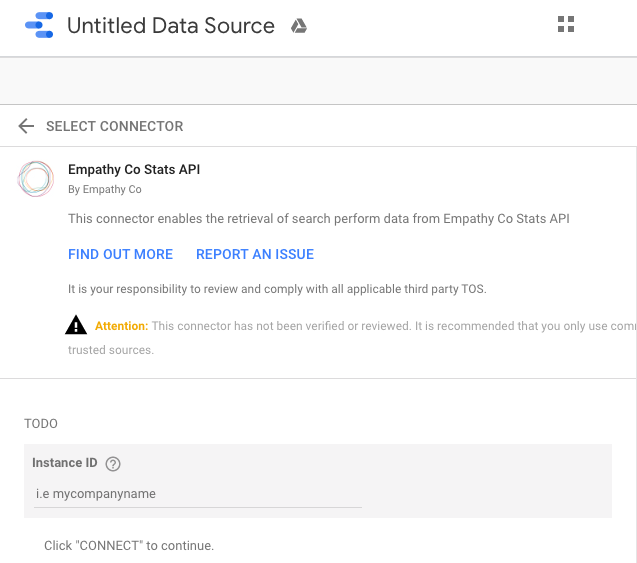 AVAILABLE METRICS AND DIMENSIONS
All the key search metrics have been added to enable you to keep all your search KPIs under control!
• Search KPIs: Queries, CTR, Add To Cart, Findability and No Results percentage.
• Query level dimensions: top queries with and without results, with corresponding KPIs.
• Filters: store and device dimensions may be used as filters for the whole dashboard.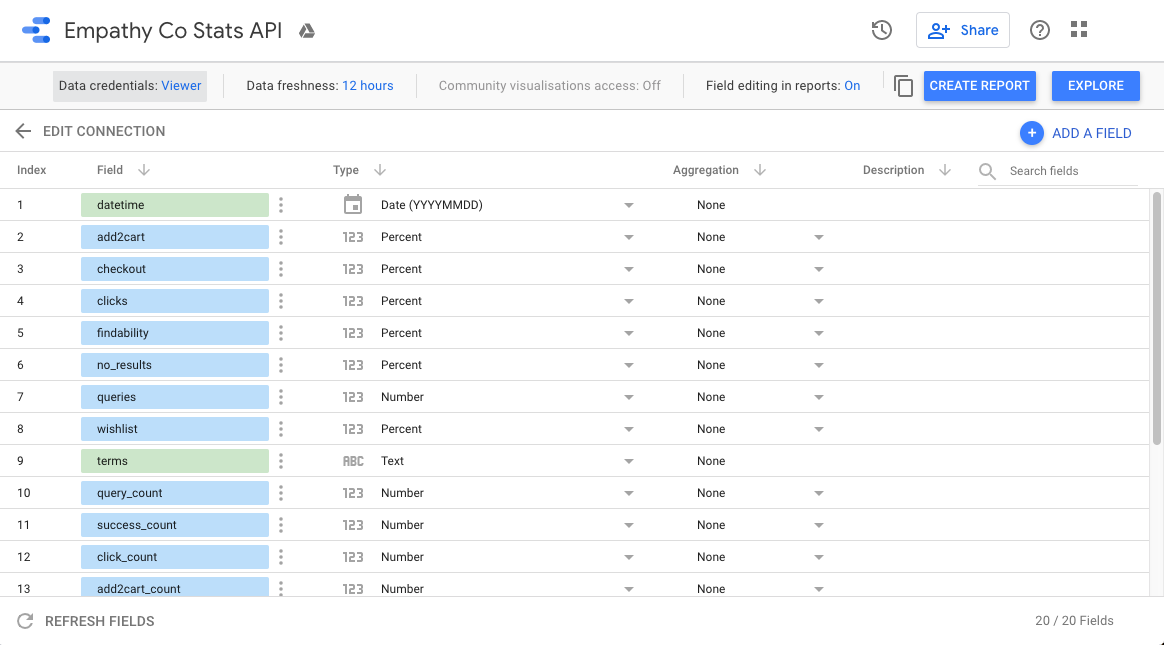 CREATING YOUR OWN DATA STUDIO DASHBOARD
Once the connector is added to your workspace, you can use it to add Empathy Search KPIs to your current search analysis dashboards or just create a new one linking specifically to this data. Here's a bit of inspiration!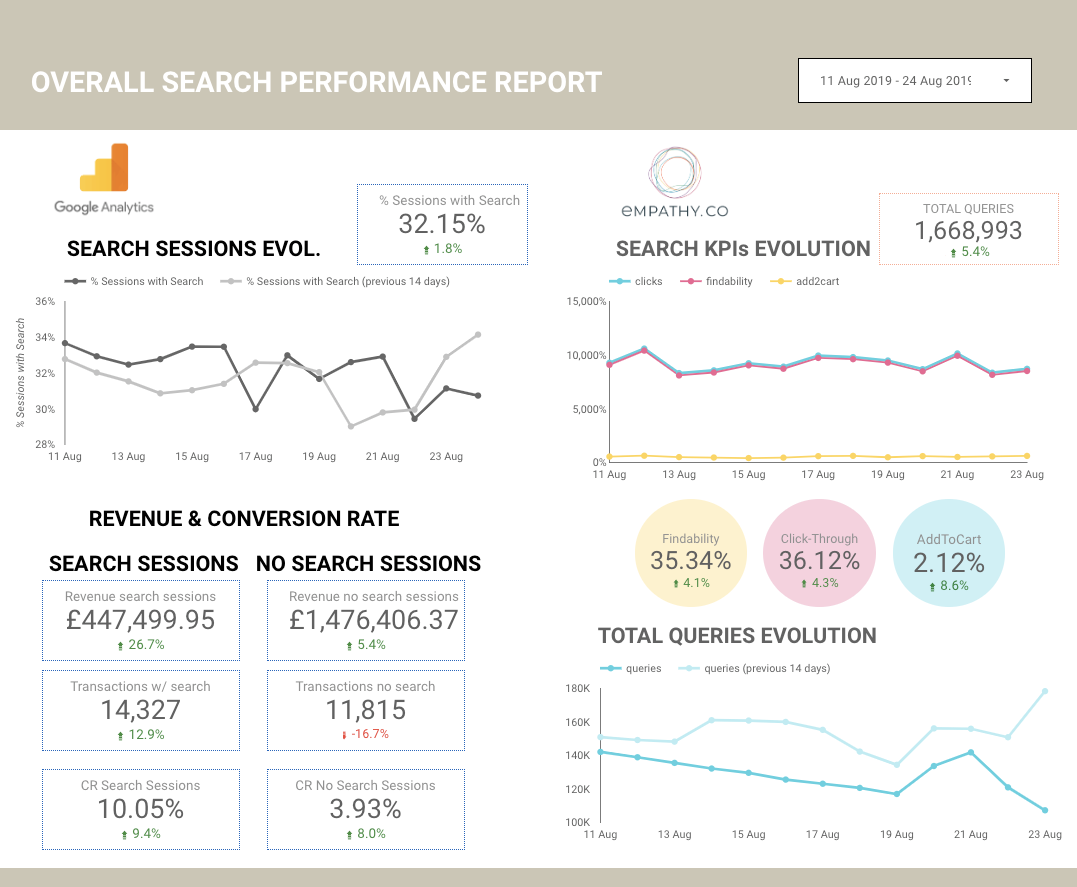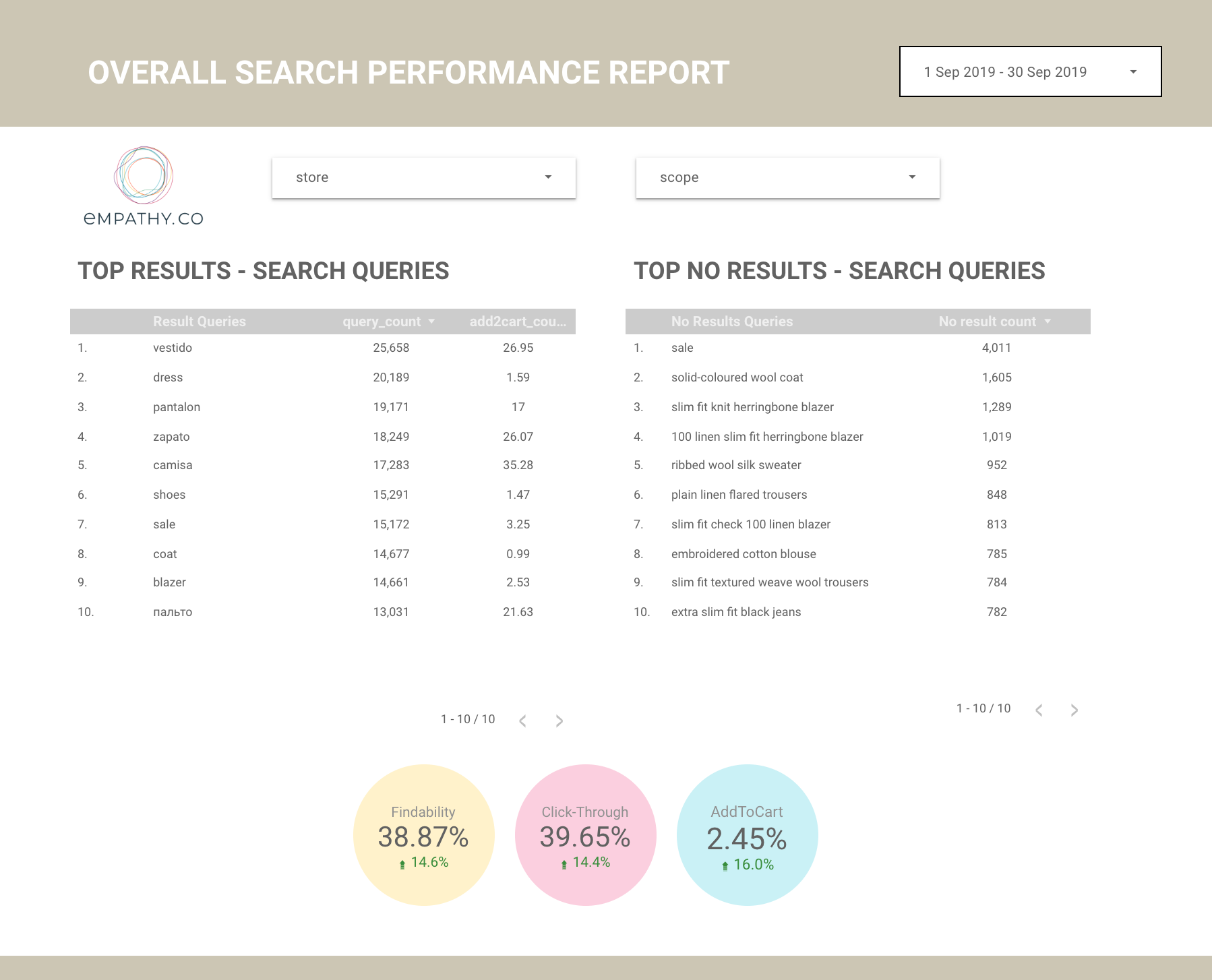 If you want us to provide a template like this for building your complete Search Performance Report, or you just need help to integrate any search data in your existing reports, feel free to contact us and discuss your particular requirements.