Kroger + Empathy.co: AI Search Applied to Grocery
Kroger + Empathy.co: AI Search Applied to Grocery
September 26 2023
Nearly five years ago, pre-pandemic, and before online shopping became the norm, Empathy.co and The Kroger Co began collaborating. In need of an enhanced Search & Discovery experience across their 20+ brands, the US' largest grocer put their trust in innovative ecommerce technology from Empathy.co.
Fast-forward to today, and the Search & Discovery used by all Kroger brands on both desktop and mobile is a product of this partnership.
Let's take a closer look at the collaboration.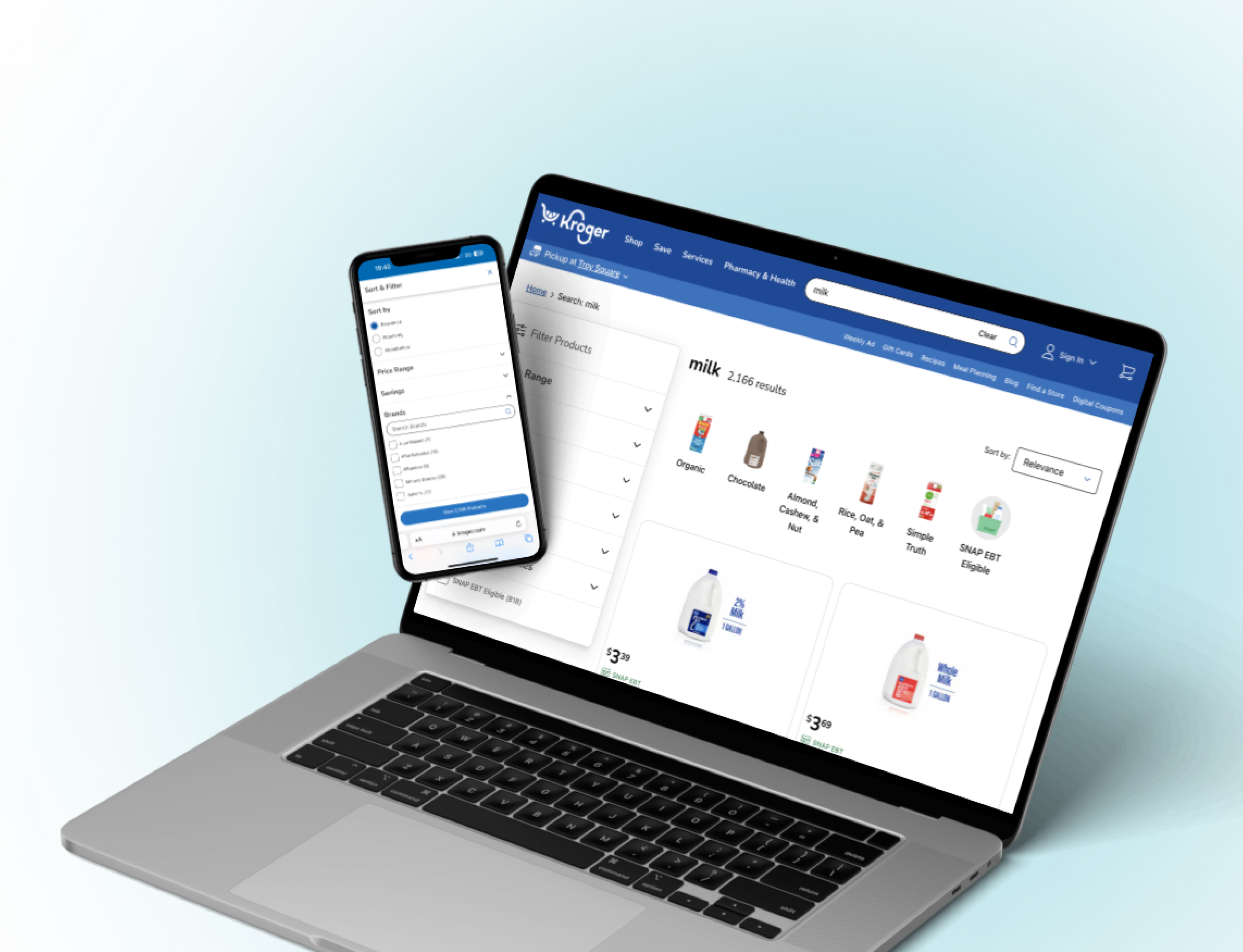 Transparent, Accountable & Explainable Search 
With dedicated teams from Empathy.co working hand in hand with Kroger, the grocery giant has the ability to be both agile and adaptable as the store grows and retailer and customer needs evolve. 
Empathy's Platform as a Service has provided the merchandising team at Kroger with detailed control over the Search & Discovery experience. Ready-made, composable components form the foundation of the platform, which provides explainable and transparent tools for merchandisers, analysts, and developers. 
These tools allow ownership and control while empowering the team to evolve a platform in close partnership between Kroger and Empathy.co. 
A Positive Evolution of KPIs 
From both a service and experience perspective, Kroger's collaboration with Empathy.co has proven extremely productive and hugely beneficial, with the grocer experiencing positive results across a number of KPIs. 
These positive improvements include an increase in relevancy of results, an important boost in the percentage of products added to cart, and greater findability.
Dedicated Teams Committed to Innovation & Collaboration
The relationship between Empathy.co and Kroger has led to numerous innovations thanks to the development of customized solutions for the grocery giant. Crafting technology around a wide variety of needs has set Empathy.co on a journey of client-led Open Innovation. 
This co-creation has not only solved the needs of Kroger, but also led to the development of groundbreaking solutions previously unseen in the ecommerce sphere. 
Working hand-in-hand with Empathy.co has not only proven a success for Kroger, but has also laid the foundation for the co-creation of customized solutions for other retailers.
Want your brand to be next?