#EXF19
#EXF19
June 27 2019
Experience Fighters is the annual meeting for innovators and experts in user experience and, with more than one thousand attendees, it's clearly the main event of its kind in Spain.
This has been the second year that our UX team at empathy.co had the chance to attend to get insights from great speakers, and even a magic show from Jorge Blass, who showed us a live example of "real time engagement", as well as the opportunity to connect with sector colleagues.
THE SPEAKERS & THEIR TALKS
The organisation chose a set of speakers to cover all bases and, we may say, styles of communication were mainly standalone. Although that said, as a novelty, some of the speakers opted for duo presentations or demonstrating the "team" concept with IMHO a greater impact on the rhythm and communication goals of the talk.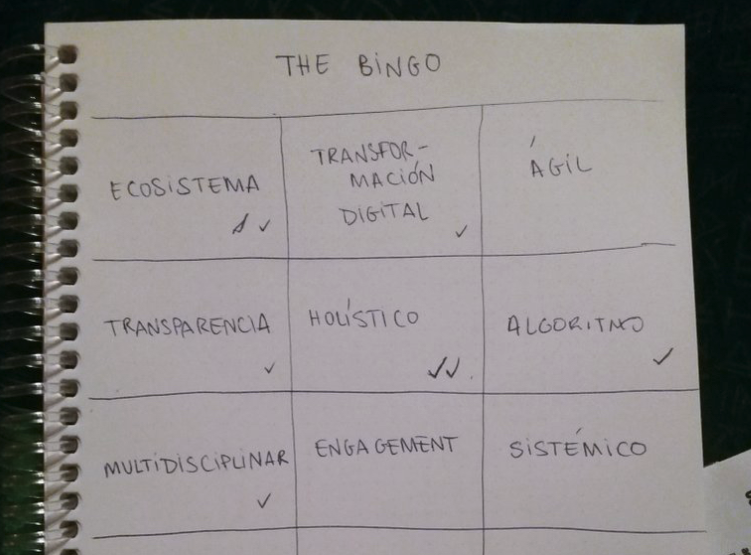 HUMAN VS MACHINE (WELL… SORT OF)
Something was quite clear from the beginning, there were two "sides" in terms of the future of design/UX.
ON ONE SIDE… AI ADVOCATES!
Some of the speakers focused on how machine learning/AI could help or break the design/usability "status quo". Some of the speakers focused on how difficult it is to create bots or agents that "feel" human and, what's more important if we should pursue that goal. Pointing out that after all, it can lead to awkward interactions, as people from google, booking or telefonica showed up. So the message is quite clear, we are not yet there, we still have to add the variable of "who watches the robots" as the data they manage (voice devices, roombas, tracking devices…) is sensitive and can be used for good or abused by evil companies or hackers.
ON THE OTHER SIDE… HUMAN & FEELINGS SHOULD COME FIRST!
Many speakers focused their talks on how we feel, how to involve users and connect with them in a personal and fulfilling way to create rich experiences. Peter Smart (https://twitter.com/petewsmart) shared some practical examples about how to deliver really immersive experiences that work before, during and after the real deal (here using caribbean cruise lines). How they offer rich, fluid interfaces focused on the flow and context of what the users want at any moment.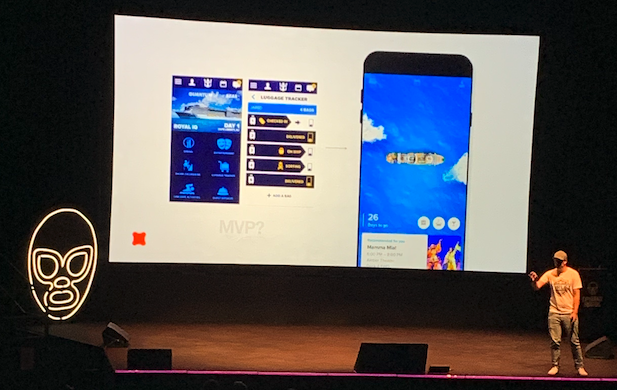 The speakers also covered the usual suspects involved in interfaces, products and service ideation and development.
INCLUSIVE & ACCESSIBLE DESIGN
As in previous years, there were talks specifically on this and how we cannot forget any user in our experience design, specifically around interfaces. The core concept is that, as Neby Teklu (https://twitter.com/Neby_at) said, we have to deliver products and services that are accessible for the extremes not just the main, most frequent user. With this concept embedded into our processes all users along the spectrum will have a better experience with the final products.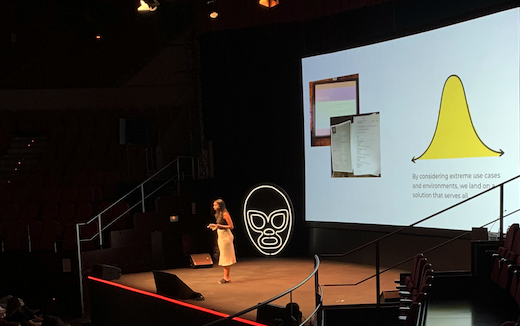 It was also very interesting to hear the talk from Marie Van Driessche (https://twitter.com/marievandries) on how we have to get rid of the disability tag bias and start thinking in mismatched human interactions instead of personal health conditions. Although, it was a bit sad to see how, despite the good intentions, some experts still miss key points to improve the communication though signal language as they forget it's a two way process.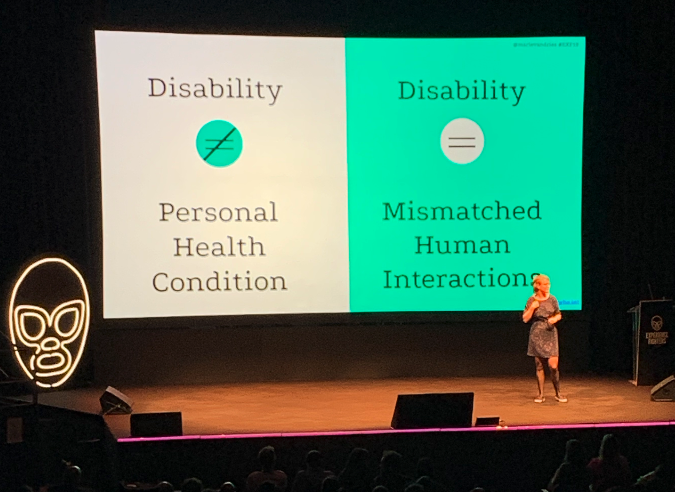 USER TESTING & PROGRESSIVE IMPROVEMENT
As mentioned before, there were two different approaches in terms of user testing and the reflection in the final products.
On the "human" side we enjoyed the Guerrilla #UXsaga from Christopher Grant (https://twitter.com/digitalaltruist) about testing, recruiting users and delivering results with the bare basics (no fancy technology, just everyday stuff). He also explored how this approach allowed the team to evangelize within the company about the value of UX and, best of all, making everyone participant in the process!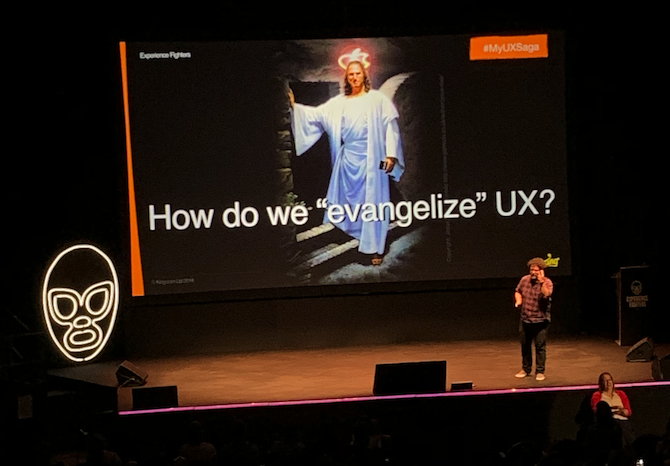 On the "AI" side they discussed detecting human behaviour patterns that can be used to innovate based on trends, such as the most popular trips or clothes, although if the changes are applied blindly surprises can happen. In booking trips, for example, users really hated the suggestions from other people as everyone wanted to feel "different" and "unique."
PRIVACY… & TRUST?
Everyone is bothered about the privacy and use of our online data. Chriss Noessel (https://twitter.com/digitalaltruist) praised the GDPR initiative as the way to go and how we should additionally add layers of control, from vendors, users and government, to have a healthy relationship with increasingly capable devices and services.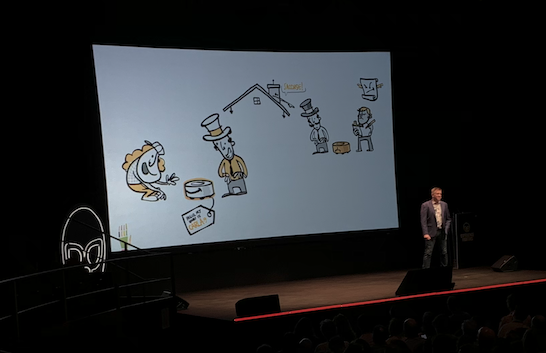 The general consensus is that the machines still require a lot, although progressively less, human supervision. It's very difficult today to mimic human nuances and, when a user detects something odd then that's when frustration and annoyance appear. The problem is that we expect too much from these kind of interactions. As Ana Molina (https://www.linkedin.com/in/amolinaa/) suggested, some of the questions unanswered by bots are also impossible to solve for a human.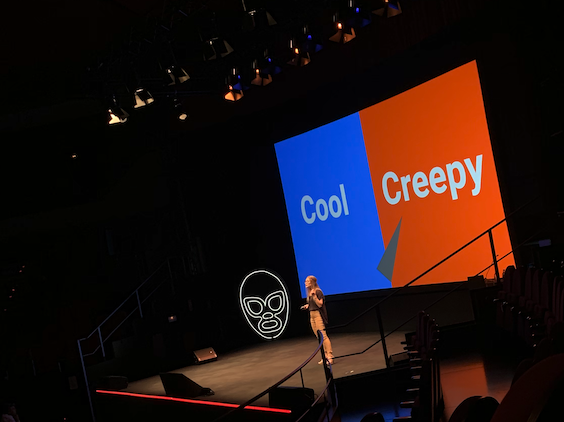 USER PSYCHOLOGY & MENTAL PROCESSES
There was a lot of insights about this one, but all of them showed (hoped?) that our efforts as designers have a real impact on society so we have to do our best to progress without losing sight of good ethics and morals.
As Veronica Zammito said, for any interface, in her experience of game design, we have to fulfill a set of expectations from the users. It's a variant of the maslow pyramid focused on digital consumers.
And EPic games' Celia Hodent (https://twitter.com/CeliaHodent) showed us some examples of their user testing process and the impact of gamers' opinions on the final product.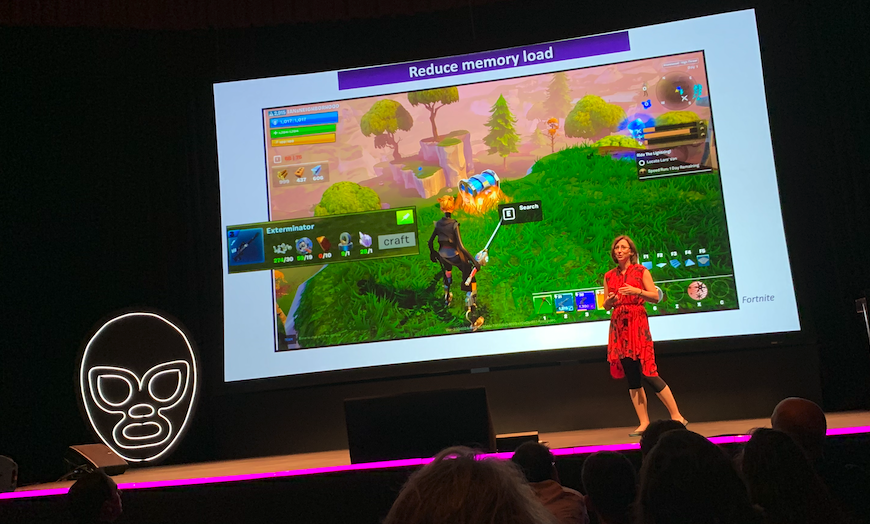 Jay Meissner (https://twitter.com/klick_ass) discussed the importance of entering into the "unknown (for oneself)/unknown (for others)" territory and how that is the territory of bold innovation. He also talked about the importance of finding the sweet spot between human tech and design.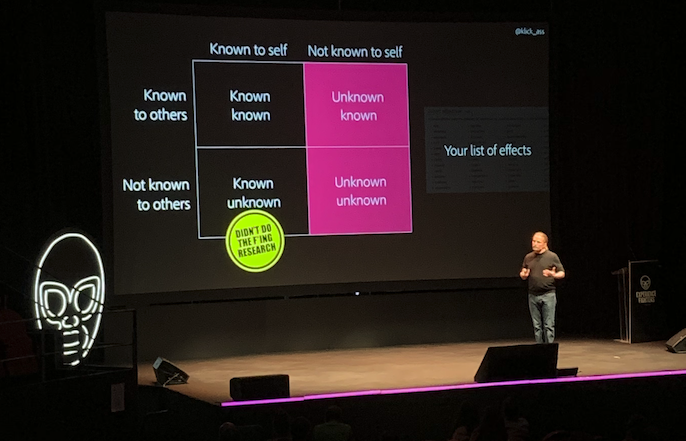 Payal Waphwa (https://www.linkedin.com/in/payal-wadhwa-a144759/) showed clear examples of how technology is increasingly being adopted by the general public and how this creates mixed realities were it can be difficult to know where a relationship starts and ends with a company.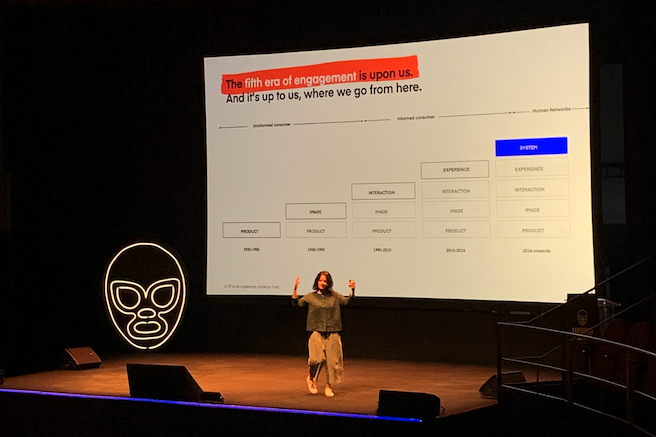 And last, but not least, Pablo Stanley (https://twitter.com/pablostanley) talked about "conductual economics", and how irrational and perplexing our feelings are when confronted by limited or expanded offerings, and how surprisingly the limited usually delivers more "sales". He also discussed how we process "anchor information" which can affect our decisions subliminally, something he refers to as the "endowment effect" and how we attach ourselves to products or services that we've used or tried for a while. He also touched on how everyone is mentally wired to minimise risks, the "loss aversion" effect, that interferes in lose/win situations.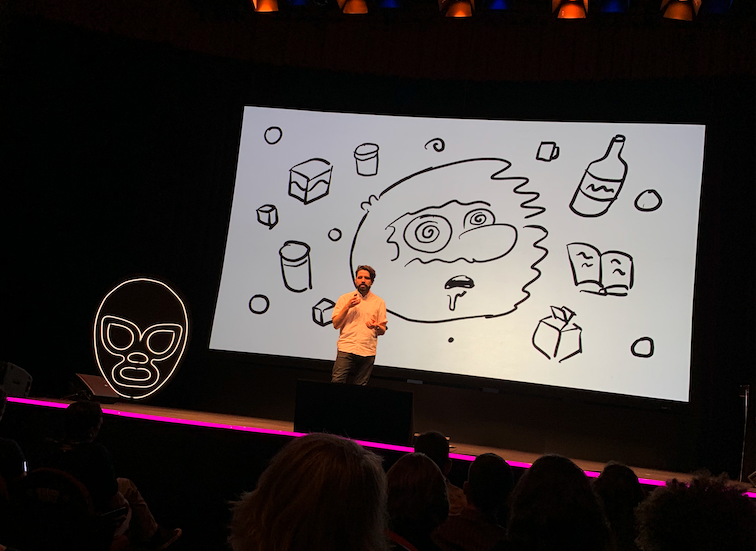 The main idea is that we know how to trigger certain responses from the users, it's in our roof to "manipulate these responsibly" in order to push them in a positive and productive way.
THE FINAL RECAP
It feels great to see how leading speakers from top companies validate our core values in events like this. empathy.co has always been committed to create compelling and memorable interfaces: focusing on flows, anticipation and the right amount of AI to avoid "creepiness." We also implemented GDPR fully from the very beginning, but what makes us most proud is to be able to create products that feel alive and that really impact clients and users, in a "responsible way."
Let's see what Experience Fighters 2020 will bring and always remember…