EmpathyDocs is Live!
EmpathyDocs is Live!
All you need to know, all in one place
August 3 2021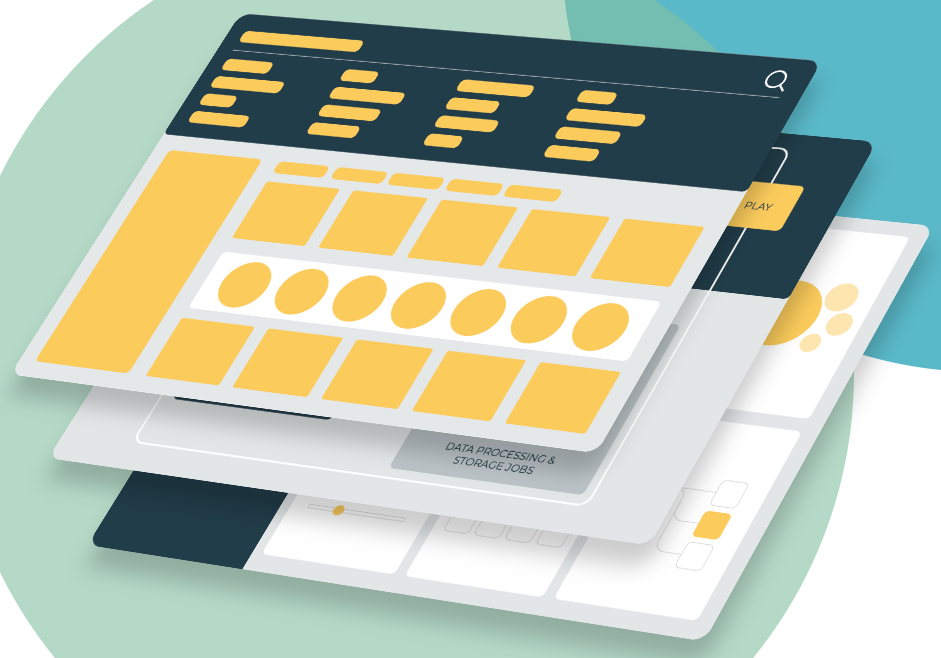 We are delighted to announce the launch of our new documentation portal, EmpathyDocs (eDocs), which is now live at docs.empathy.co.
Knowing we already had a great product and service with Empathy Platform, myself and the rest of the eDocs team wanted to match this in the quality and depth of the self-service documentation that we provided to our customers.
We extended our offering beyond just the technical details on how to implement and connect to Empathy's APIs, and have developed a top-notch documentation library (or knowledge base) where information is clear, accessible, appropriate, and enticing. 
Introducing EmpathyDocs
Level 1 : Explore Empathy Platform
Here you'll discover all there is to know about Empathy Platform, how each feature works and how to get the most out of it.
Level 2 : Empathy for Developers 
This is where you'll find the more technical details of Empathy Platform. Learn how it works under the hood and access our APIs whilst maintaining control of development.
HINT: Don't miss the clean code examples so that you can start off on the right track.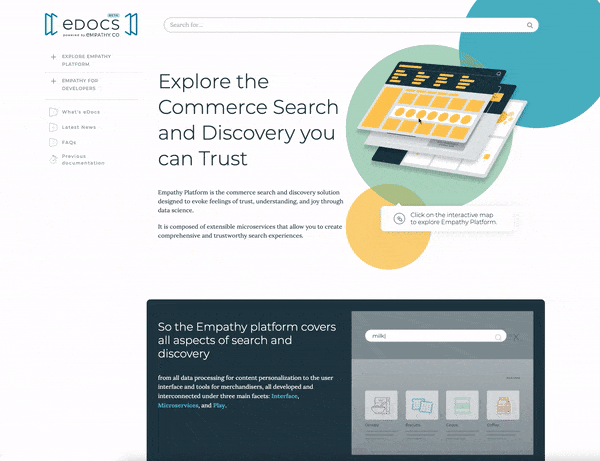 A Portal for the People
When working on the new eDocs portal we aimed to create a place that embraces our focus on Digital Empathy and human-centred design. When designing this new site for our customers to explore documentation, we focused on:
Delivering knowledge. This was our starting point for providing trust, transparency, and confidence in the Empathy Platform product.
Mutual understanding. We wanted our customers to understand the Empathy Platform on many levels, and designed a portal that understood their needs for simplicity and speed.
Enjoyable & playful experiences. By delivering friendly and interactive technical content, our customers can really enjoy their documentation experience. We also wanted developers to find more examples, more use cases, and a range of key technical content.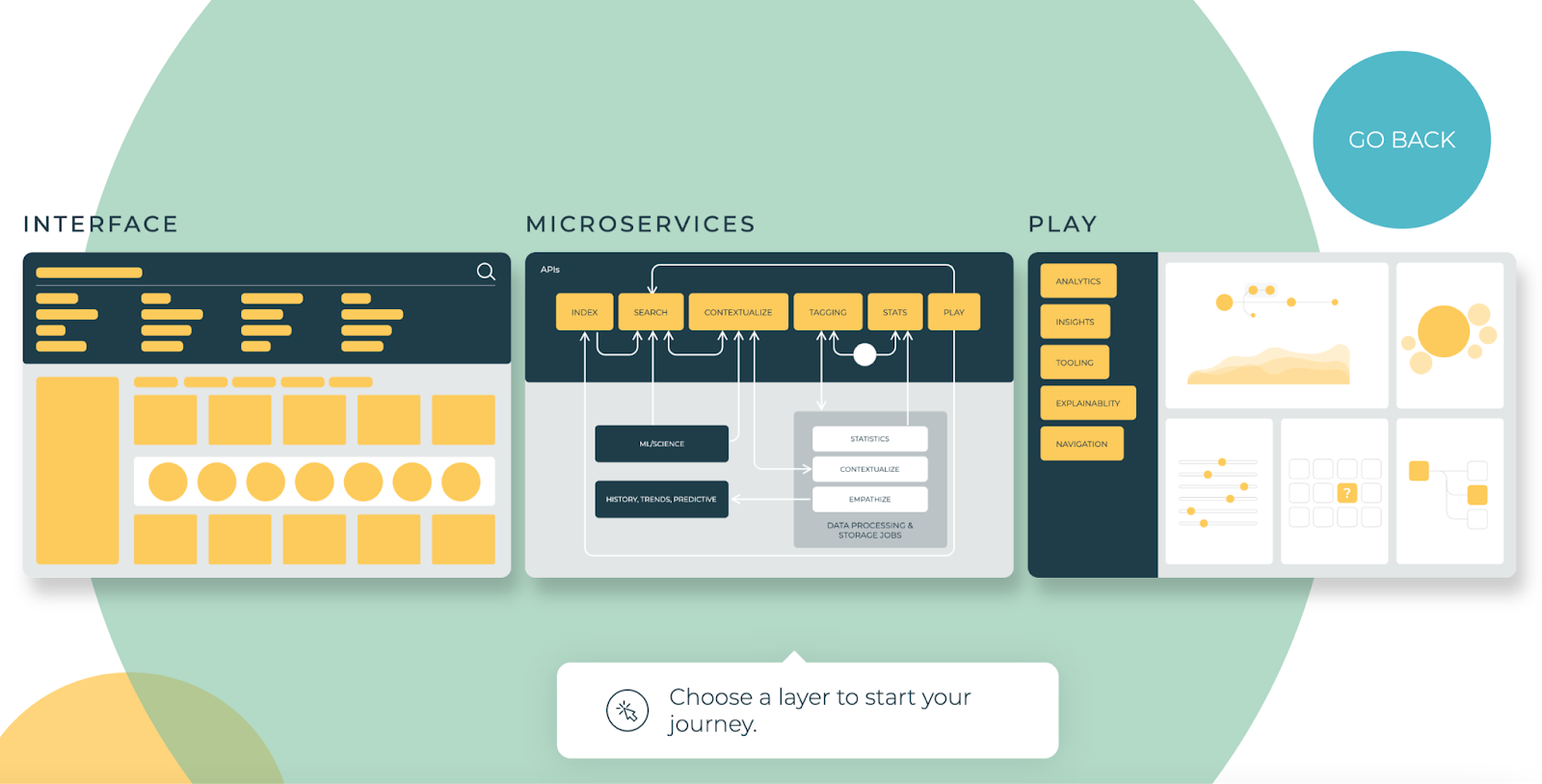 What else is new in the eDocs portal?
Interactive Map
Explore the different search experience layers of the Empathy Platform right from the homepage: frontend, backend microservices, and tooling. 
Functional documentation
Merchandisers gain insight into why and where to use our features. New content explains each key feature and its benefits to them.
Search improvements
We've made the eDocs search experience easier and quicker. Just enter a keyword and you'll immediately get some suggestions.
Mobile-optimised
Browse our documentation anytime, from any device.
Live examples
Interactive code snippets let developers edit the code, updating the live example on the fly. Great for learning and experimenting!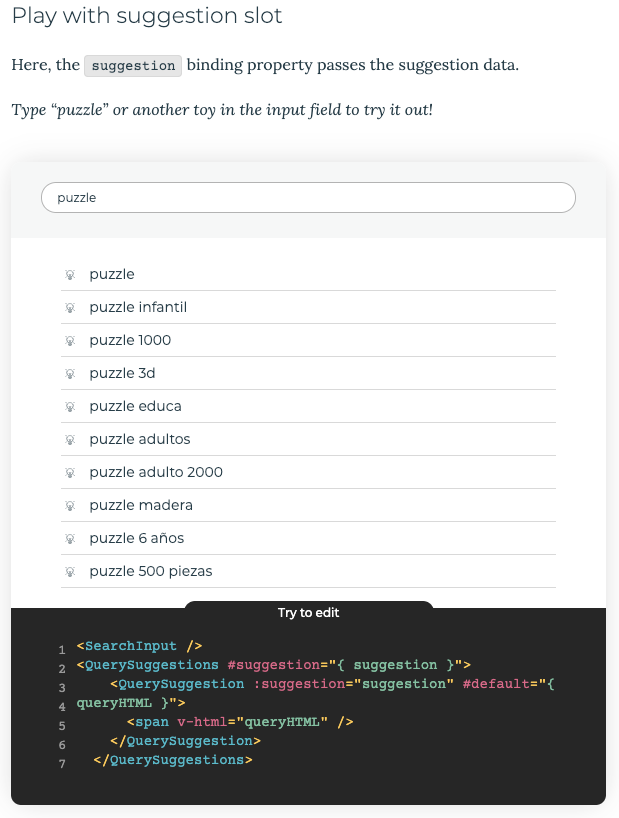 Into the wild…
With the all-new EmpathyDocs we think we've made learning about the Empathy Platform a much more enjoyable experience.
Over the coming months, we'll be adding and updating EmpathyDocs, including brand new features, so keep an eye out for the latest news! 
In the meantime, the team and I hope that you like the new look eDocs site and we'd really love to hear your feedback on how we can improve it; do get in touch.
Ready to dive in? Explore Empathy Docs today!