Create Beautiful Moments of Joy this Mother's Day
Create Beautiful Moments of Joy this Mother's Day
May 3 2019
Mother's Day is one of the most important dates in the annual calendar for some eCommerce sites as they experience huge increases in online searches and sales leading up to the big day.
When we looked across our customer sectors including fashion, groceries, books and electronics, it was perhaps unsurprising to see that it was the florists and jewellers who came out on top. Yet, both demonstrated their own specific trends and particularities as well as differences in demand and busiest days to align with their type of products and delivery terms.
Mother's Day in Spain usually falls on the first Sunday of May however this day varies from country to country, with mother's being celebrated, for example, in March in the UK. This means that for online retailers, especially international ones, it's critical to track these special dates and peak periods in order to anticipate, facilitate and optimise site performance to fulfil and exceed customer demand and expectations on these dates.
Special occasions like Mother's Day are when people demonstrate a high purchase intent, knowing that they must buy a present for a loved one, but without necessarily a clear idea of what that item might be.
This means that retailers need to tailor the online journey and experience to be one of discovery, inspiring visitors with tailored suggestions based on context and an understanding of who the item is for and the required budget. The shopping experience must be as inspirational as possible while also offering guidance to help the user on a frictionless discovery journey.
It's also interesting and essential to understand consumer behaviours and when they start to look for their gifts in order to not just anticipate demand and plan stock levels but to fully align the experience to their needs.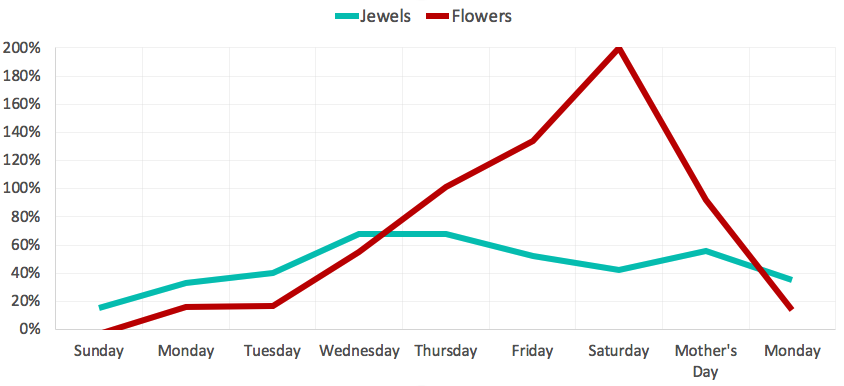 Sector Trends
For the online jewellery sector, we can see a soft increase in the volume of queries beginning ten days before the special day with a steady flow of higher than average searches and sales all the way through to the actual day. So, considering that the delivery requires around two days this is a tight timeframe for receiving the product.
The big peaks are on the 1 and 2 May and interestingly the biggest peak is on the actual day, seeing a 55% increase compared to an average day. This is perhaps when choices are being made in person or replacement items are being sourced! Looking at last year's searches, bracelets came in as the top choice followed by necklaces and rings.
When looking at the most popular sector for this special date and flowers, we can see more of a trend on last-minute purchases. The largest increase in queries begins just two days before Mother's Day arriving at a 230% increase the day before. Interestingly, roses come in as by far the most popular choice showing a continuity with tradition.
As same day deliveries are available, this sector is perhaps more suitable for those forgetful sons and daughters or those who usually wait for the last minute to purchase a gift or decide about how to surprise a loved one.
For these customers, the discovery period needs to be reduced as these consumers are time poor, in fact time they've almost run out of time, so the purchase process needs to be straightforward, quick and easy. No Results pages, poor filtering or suggestions, lack of assistance or a mis-alignment between searches and the catalogue can be very disruptive on such a critical sales date when consumers often have little patience due to a need to buy something quickly.
The Opportunity
Independently of your eCommerce scope or the products you sell, if you're not prepared for the big peaks and increases in traffic and queries on special dates you're losing out on important opportunities.
Through understanding unique customer behaviour during these periods, retailers can tailor the online experience to align with customers' needs, intent and demand. That may be through assisting in the discovery of the right item for a beloved one or facilitating a quick last-minute purchase.
Special dates offer a singular opportunity for retailers to create stand-out experiences and show they really get their customers. They're also a period when they have the chance to impress new customers, turning them into loyal, brand devotees.
Make sure you're not missing out on creating more tailored and targeted digital experiences on special dates, download our Special Dates Guide to find out more.