The most sought-after books in Madrid's 52nd annual book fair
The most sought-after books in Madrid's 52nd annual book fair
June 11 2019
As we've discussed previously, special dates or celebrations like these create distinct opportunities for retailers as periods when customers demonstrate different and singular characteristics representing a huge selling and revenue opportunity and, this year's fair, so far, has been no exception.
Our analysis of Spain's largest online book store, Casadellibro.com, during the opening days of the fair showed that once again interest for books increased this year with book searches rising by 4.5% and add to carts increasing by 10.7% on mobile, an amazing 165% more compared to last year's fair.
"Mobile is a really key element during the Madrid Book Fair as we often see visitors looking for books while they're onsite in the moment." Confirms Fernando Herranz, Director of eCommerce at Casa del Libro.
It's also interesting to see the searches taking place and the authors and titles trending during the first days of the fair. Harry Potter, Game of Thrones and Megan Maxwell appeared in the first three places by number of searches and if we look only at the most popular authors, Megan Maxwell led the pack, followed by Stephen King.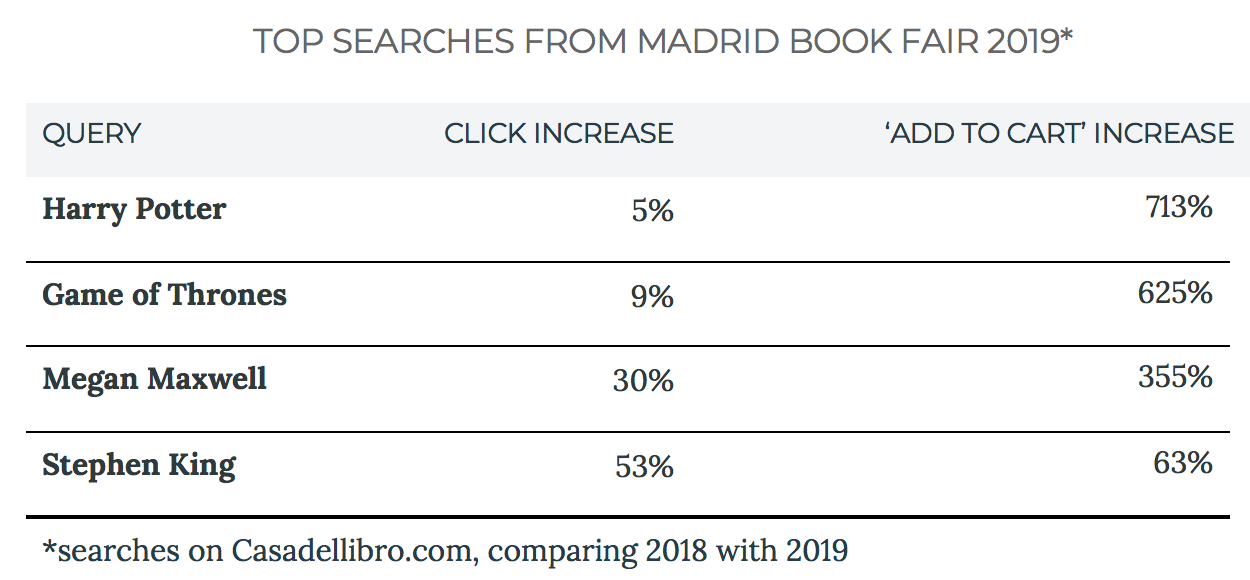 This type of information is really useful for the bookseller to not only see the top trending items but to manage stock levels and offer alternatives if necessary. Also key is the click and add to cart rates as these both help the retailer to understand and establish if people are successfully finding what they're looking for.
Understanding the different behaviours and patterns on these special dates and shoppers' unique intent and behaviour can help brands to not only anticipate trends but also to enhance the customer journey, the user experience and as a result boost sales and brand loyalty.
The increased activity, on both the desktop and mobile sites, was in part due to the renewed interest in books generated by the special event, a site wide promotion to encourage visitors to the online store and various improvements to the site itself with additional elements and features to enhance the user journey and boost its performance.
Casa del Libro started working with empathy.co in 2018 and this year introduced a new design, new products and new features to further enhance the online bookstore. Interface, our intuitive, adaptive and expressive plug-and-play frontend was incorporated into the site to not only make it more seamless, faster to respond and more expressive but to enable a new design and additional features. These included Trends and Top Clicked results, Related Tags and Search Suggestions as well as Next Queries to help guide and inspire visitors.
Casa del Libro is also one of the first customers to use our new Context product. Query context was deployed to enable an understanding of user queries and anonymised user behaviour to improve findability based on how queries are performing. The feature has also been incorporated into the ranking algorithm so the results can adapt and evolve based on how people are reacting and interacting with the catalogue. This is a really powerful feature and creates more engaging and tailored connections for visitors.