How online shopping will change with the rise of privacy-first tech and AI
How online shopping will change with the rise of privacy-first tech and AI
A guest post from Crobox, Empathy.co Partner
September 14 2022
Online shopping has revolutionised the retail industry. Customers are no longer bound to a shop's opening hours or available products. 
Instead, we can browse and buy new products wherever and whenever we want. Whether on your computer, tablet or smartphone, buying a product is possible with a few simple clicks at any time.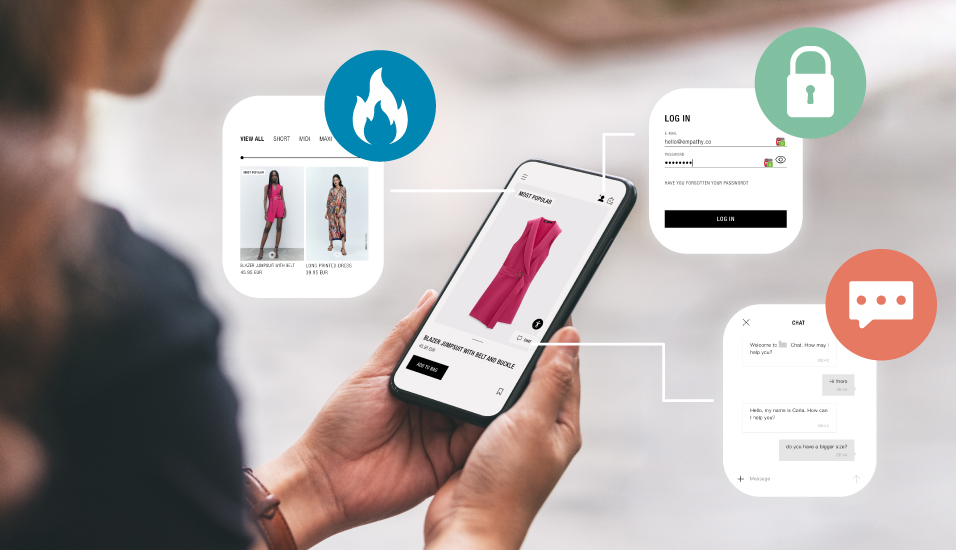 The convenience of online shopping has caused an explosion in its popularity over the last decade. The market has doubled since 2017 to $5.542 trillion in 2022 and is predicted to grow to $7.391 trillion by 2025.
But as the market grows, so does the need for privacy, security and convenience. Customers are looking for brands that can provide more than a vast product catalogue. So, what are shoppers demanding nowadays? We could summarise with the points below:
They want to be sure that their data is safe and not sold to advertisers and marketers. 
They are looking for beautifully designed and responsive websites. 
They want to enjoy a personalised shopping experience while browsing from the comfort of their home.
Technology isn't staying behind to address these quickly growing expectations. With privacy-first tech and AI, such as virtual assistants and a focus on product data, the industry is getting ready for the future of ecommerce.
Virtual assistants for shopping
In recent years, online shopping has become more human-centred to respond to the expectations of customer-centric ecommerce. This trend could be easily addressed by collecting personal data and using it to give the customer a personalised experience.
However, customers are becoming increasingly aware of their right to privacy and the malpractices of data brokers. This consciousness has resulted in a staggering trust crisis where 66% of consumers do not trust the fashion brands they buy or use.
So how do you provide a personal experience while respecting your customers' privacy and building that ever-important brand loyalty?
The answer seems to lie in the emerging industry of privacy-first technology with zero-party data collection. By combining behavioural psychology with zero-party data, platforms can create customer-centric and reliable shopping journeys across the funnel.
Many web shops leverage guided selling on their platforms. Product Finders, for instance, ask questions to recommend the perfect product for each customer. These create a more individualised shopping experience that is both convenient and ethical, as privacy is always respected.
Similar to an in-store sales assistant, these virtual assistants or Product Finders for ecommerce only use customers' data to help them find the product they are looking for. No personal data is collected or stored, so the customers are guaranteed a safe discovery journey. 
With these conversational interfaces, online shopping becomes a process of inspiration and discovery rather than just a transaction. The merchants, in return, receive valuable information that they can use to spot trends, adapt their catalogues, and improve the shopping experience.
Messages optimised for inspiration and discovery
By creating enhanced store experiences, merchants can personalise customers' product discovery journeys. Contrary to popular belief, you don't have to collect personal user data to offer this type of experience. 
By analysing click behaviour, you can gain valuable insights into your customer profile. This analysis takes place without collecting any sensitive data, preventing the dubious practice of tracking and sharing data with third parties. For example, with Dynamic Messages, you can know all about your customer's behaviour, likes, dislikes, and how they shop online while respecting their privacy.
These auto-optimised messages point out products of interest to your shopper, using click-data gathered in session. These messages include AI-powered product badges, smart notifications, and overlays. These inspire and guide the customer along their shopping journey. 
The data is safeguarded at all times based on two principles: anonymisation and in-session usage. 
Anonymisation: data can not be linked to a specific customer, so the customer's personal privacy is guaranteed at all times.
In-session usage: data is restricted to your website, so the moment your customer leaves the online shop, the tracking stops automatically.
This approach to data collection results in accurate information that guarantees the highest level of privacy. Online shopping becomes a journey of exploration and discovery with respect for every customer's background. 
This way of investing in sustainable analytics will prove to be the path of the future for online shops. This is because while customers look for a sincere connection with their brand, they are also becoming increasingly aware of privacy regulations and rights.
Sustainable conversion with personal data control
Marketers are always looking for new ways to build engagement with their audience in a genuine, trustworthy and direct way. With the rise of social media, small and large businesses got the ultimate opportunity to connect with their customers and showcase their brands. 
At first glance, these platforms are an excellent tool for engaging with your customers, not least because of their impressive size and usage rates. In January 2022, more than half of the world was using social media (58.4%). Of all internet users, almost 94% use social media. The average time spent on these platforms rises yearly, with a current high of 2h 27m.
As we spent more time online, companies saw new opportunities to create revenue. These platforms proved an excellent step in finding out what customers want and offering it directly to them. Social media slowly shifted from community-building networks to advertising pages where customers are exposed to new goods and services every day. 
However, it seems we are at a saturation point, where companies have to battle more and more for the customers' attention. That's why certain websites use tricks out of behavioural psychology to drive people to a decision, for example, by creating a sense of urgency or scarcity. 
It will only be a matter of time before customers are also used to these new advertising methods and become immune to them.
Clearly, constant access to goods and services has led to a choice paradox where there is too much information, and customers feel overwhelmed. Besides that, customers are also catching on to the broken relationship with social media. The platforms earn a huge amount of money for advertising, with no benefits for the consumer. 
To deal with this paradigm shift, brands must focus on driving sustainable conversion. This will mean that customers own, exchange, and monetise their own data. This idea cuts out the platforms as middlemen and gives the power directly to the consumers, who can choose to trade data with a retailer to improve findability.
Instead of focusing on more products and louder adverts, an exchange between the consumer and the retailer is built. This optimised relationship means we buy products tailored to our needs, making us feel valued and understood with every purchase.
"Data privacy will only continue to rise, and consumers will only continue to expect it from brands they shop with. Eventually, I see a future where the customer will own their data. Brands, especially in ecommerce, will have to find ways to provide tailored experiences that are still in line with the customer's privacy." - Rodger Buyvoets, CEO & Founder of Crobox.